Xact Group to offer club support on next Zoom Panel Call
Posted on 05/05/2020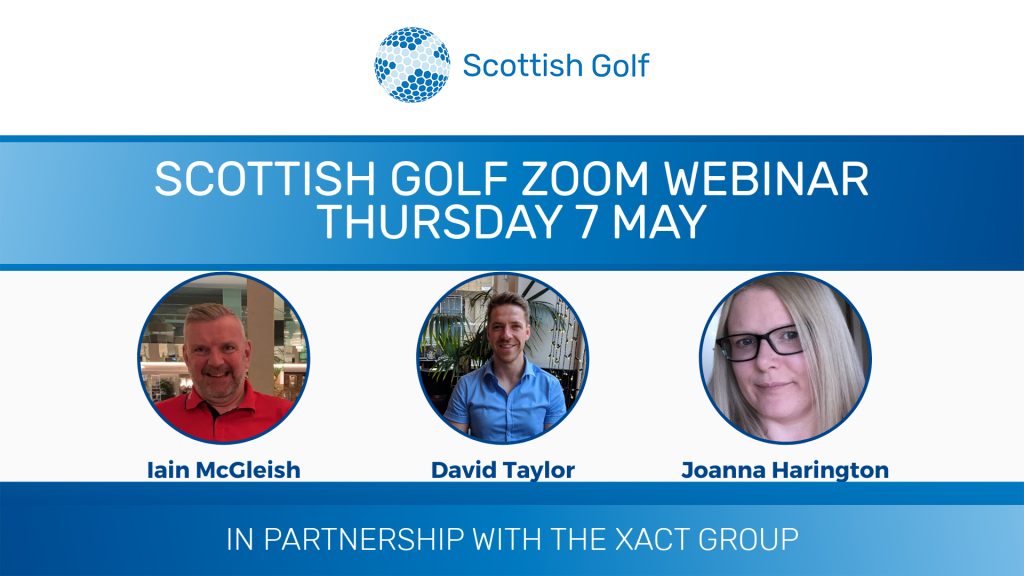 Scottish Golf is pleased to announce that our partners at the Xact Group will form the panel for our next Zoom Call aimed at support golf club managers and officials across the country.
The call, which will take place on Thursday 7 May from 10.30 – 11.30 am, follows our last Zoom Panel Call where over 300 delegates tuned in to an exclusive session with Scottish Major Champions Paul Lawrie and Catriona Matthew.
On this week's call, we will welcome three panellists from our partners at the Xact Group and they will discuss a number of topics including HR, Employment Law and Health and Safety in the workplace.
Registration for this week's Zoom Panel Call is now available here and will close at 3pm on Wednesday 6 May.
Meet this week's Panel
Iain McGleish – Sales and Marketing Divisional Manager, The Xact Group
Iain worked in the financial sector for over 20 years starting as a Development Manager and finishing as a Regional Manager with PFG
Iain joined Xact in early 2015 as a National Account Manager across a range of sectors including partnerships.
His current role is Sales and Marketing Divisional Manager which involves servicing and maintaining partnership building a rapport, and establishing new and existing relationships
David Taylor -Divisional Health and Safety Manager
David worked in the engineering sector for the early part of his career gaining an HNC in Mechanical Engineering and an SVQ Level3 Engineering. During this time David gained an interest in health and safety and gave up his career in engineering to go to university where he gained a Distinction Bachelor of Science Degree in Occupational Safety & Health.
Before moving to Xact David gained experience in distribution and logistics, retail and construction as well as engineering. David joined The Xact Group in 2017 working as a health and safety researcher and developer helping to develop the department's services. As well as this David was also working as a health and safety advisor.
With his departmental and client work David has progressed into his current role as the Health and Safety Divisional Manager where he continues to develop and provide the best possible service as well as building good relationships with Xact's client base.
Joanna Harington_Senior HR Advisor
Joanna is a Senior Advisor within the Xact HR team who has a Masters Degree in Human Resources Management with CIPD accreditation. She has a wealth of operational management and HR experience gained predominately in the Hospitality and Retail sector having worked for brands such as Hilton, Kuoni, Boots, and Superdrug. This has given her a great insight and understanding of the challenges line managers face daily.
Scottish Golf's Zoom Panel Calls are free-to-attend. To sign up for this week's session, please click here.