The R&A unveiled its new Women in Golf Charter in May 2018 as part of the organisation's global drive to increase the number of women and girls participating in golf and to encourage more opportunities for women to work within the golf industry.
The Women in Golf Charter intends to inspire an industry-wide commitment to developing a more inclusive culture within golf around the world and enable more women and girls to flourish and maximise their potential at all levels of the sport. More than 240 clubs in Scotland have now committed to the Charter and we're looking for even more.
Adoption of the Charter requires national associations, clubs and other golf bodies to build on and develop initiatives which will focus on encouraging more women and girls to play golf and stay within the sport as members of clubs, while also empowering women to enjoy successful careers working within the golf industry.
---
The Women in Golf Charter specifically aims to:
Strengthen the focus on gender balance and provide a united position for the golf industry
Commit national federations and organisations to support measures targeted at increasing participation of women, girls and families in golf
Call upon signatories to take positive action to support the recruitment, retention and progression of women working at all levels of the sport
Set individual targets for national associations for participation and membership and reporting progress annually
Develop an inclusive environment for women and girls within golf
---
Club Commitments and Registration Form:
As a signatory of the Charter and as part of our aim to grow female membership in Scotland we are encouraging all affiliated clubs across the country to make their own commitment to the Charter. The Charter aims to make the game more accessible and inclusive for everyone and involves making a minimum of three commitments that the club will implement. Scottish Golf will work with clubs to take positive steps towards achieving their commitments.
To pledge your commitment to the Charter please complete the registration form here.
Once your commitments have been selected you should now:
Assign timescales to your pledges acknowledging that they are time specific;
Utilise action plan template provided by Scottish Golf;
Link your commitments to the club's business plan and/or create your own Club Charter specific to Women and Golf;
Publicise your commitments to your members;
Once complete, your Club will be recognised as an R&A Women in Golf signatory and will be listed on The R&A and Scottish Golf websites.
---
#FOREeveryone Campaign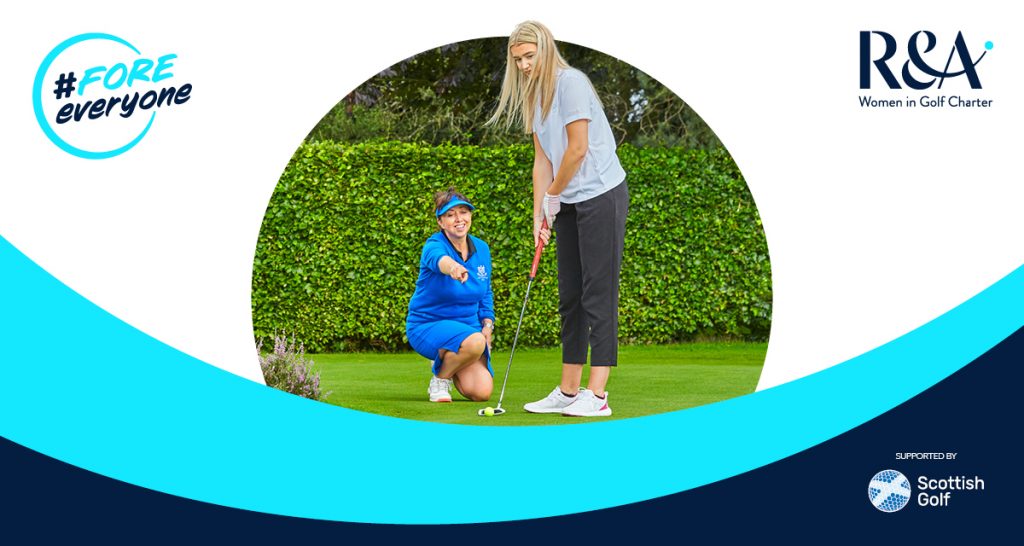 The #FOREeveryone campaign, part of the Women in Golf Charter, is a co-ordinated approach from The R&A, the National Associations and The PGA in Great Britain and Ireland to increase the participation of women and girls in golf and increase the number of women working within the golf industry, by developing a more inclusive culture.
This campaign builds upon the introduction of the R&A's Women in Golf Charter two years ago to give clubs and facilities further information and resources to start making changes that can encourage more women and girls into golf.
This is just the start of a long-term drive, which will see a full consumer campaign designed to bring new women and girls into the game launch to full effect next year.
For now, however, we would ask that you take a few simple steps to get the most out of these materials and join us in this movement.

Step 1
Download and read the toolkit (accessible below) and pass it to others in the club who may be interested.

Step 2
Register for the Resource Portal – Click here

Step 3
Use the toolkit to inform or refine your women and girls' strategy for the 2021 season.

Step 4
Begin using the assets provided, several of them are editable allowing you to input your own messages (you can find these on the Resource Portal).

Step 5
Talk to us – we want your feedback on these materials or any questions (contact details in the toolkit).

---
Women's Membership Advice Note
As part of our commitment to the Women in Golf Charter, we are pleased to provide clubs with guidance on recommendations for changes required to deliver equality of membership. Please click on the link to download our updated advice note.
Women's Membership Advice Note
---
Action Plan
Once your club has made their commitments to the Charter, we would encourage you to consider completing an action plan, with timelines, to ensure that these commitments are fulfilled. A sample action plan is available in the resources section below.
---
Scottish Golf – Women in Golf Charter Pledge
Scottish Golf, the governing body for golf in Scotland, is proud to have signed The R&A 'Women in Golf Charter' and pledge our support to work towards its goals, together with our clubs, golfers, stakeholders and partners.
Our commitment to the Charter is underlined by the new Scottish Golf Strategy, which encompasses our primary strategic priority of increasing national membership through growing the number of women and junior members by 15,000 over the next four years.
Our activity will focus on the following key areas to address gender imbalance and cultural change across golf clubs in Scotland, including:
Increase the percentage of female members from its current level of 13%
Increase representation of women on club committees, senior roles and workforce within clubs through influencing modern, good practice governance
Drive membership equality, including non-gender specific tee-times availability
Promote gender neutral tees with a change of positioning to ability level tees
Increase awareness of the need for culture and behavioural change within golf clubs
Showcase female role models at all levels of the game including Tour professionals, leading amateurs, coaches, club managers, volunteers, members and beginner golfers
Promote change within the golf club environment to achieve an inclusive, welcoming and family-friendly experience for all
Deliver national participation programmes for juniors and beginners that are tailored to suit the needs of prospective female golfers
Working with clubs in promoting a wide range of events and formats to cater for all golfers and potential golfers regardless of background or ability.
In addition to signing our pledge to the Charter, raising the profile of Women in Golf has been at the heart of our organisation since its formation in October 2015, with the following already achieved:
We have had a female Chair since October 2015;
Our current President is female;
50% of our executive workforce are female;
33% of our Non-Executive Board are female;
40% of our Senior Management Team are female;
Equal opportunities for elite level female amateur golfers since amalgamation in 2015
Achievement of sportscotland's Equality Standards Foundation Level with a commitment to achieving Intermediary Level.
We look forward to working with The R&A to promote the Charter, encourage our clubs to commit to actions within the Charter and grow the number of women and girls playing and working within golf in Scotland.
---
Women in Golf Charter – Signatories
More than 240 clubs in Scotland have now committed to the Charter. A full list of clubs who have signed up to the Women In Golf Charter is available here.