Winning Scots Head South to Royal St George's
Posted on 12/06/2021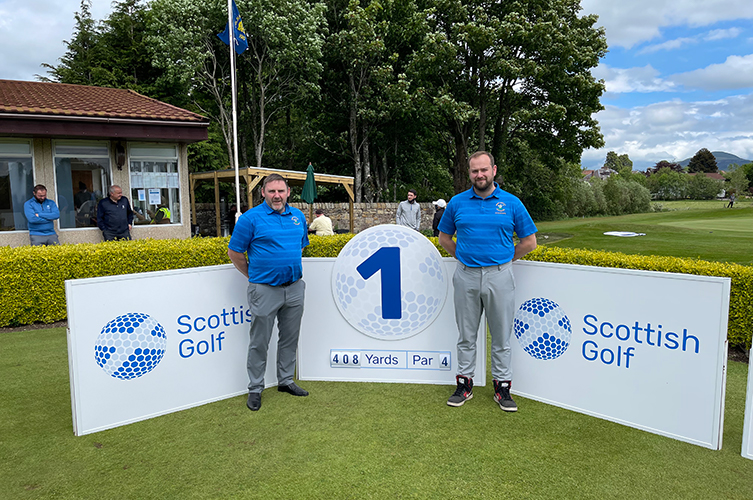 Day 1

Day 2

Eight Scottish club golfers have earned a place in the R&A 9-Hole Challenge Final to be played next month at Royal St George's on the weekend before the start of the 149th Open Championship.
Kirkcaldy's Fraser Thomson and Davie Elder, Niddry Castle's Steven Bleakley and Calum Bryceland, Balbirnie Park's David Allan and Gary Irwin and Daryl Hutchinson and Steven Ovens from Canmore will tee up on a composite course comprising holes 1, 2, 9, 10,11, 12, 16, 17 and 18 on the venerable Kent links on Saturday 10 July just five days before 2019 champion golfer Shane Lowry begins the defence of his title against a world-class field.
The four club pairs won the right to compete in the Grand Final thanks to their performances in the two-day Scottish Golf R&A 9-Hole Challenge National Final played at the picturesque Milnathort Golf Club in Perth & Kinross on 10-11 June.
Live Coverage: #9HoleChallenge
On the first day of the competition, the Kirkcaldy and Niddry Castle pairs shared top spot on the leaderboard on 38 points. Elder was Kirkcaldy's top scorer with 21 Stableford points while Thomson contributed 17 points to his team's cause. Bleakley and Bryceland booked their places in the Final after accumulating 19 Stableford points each.
"It's great to get the chance to play at Royal St George's," said Elder. "I cannae wait.
"I suppose when you enter these competitions you have the same chance as everyone else. But you don't really expect to get through to the Final so it's a big surprise.
"I hadn't played Milnathort before but I thought it was excellent," he added. "The course was in great condition. You really have to think your way round."
"It was good fun and now we get a chance to play a course we've only seen on TV," said Bleakley.
"We're very much looking forward to it. I can tell you the chaps at the golf club are very envious."
The second Scottish qualifier on 11 June was won by Balbirnie Park duo Irwin and Allan on 39 points with Irwin accumulating 20 points and Allan one less. Canmore's Hutchinson and Ovens both contributed 19 points to secure their spot in the Final at Royal St George's one point behind.
"We actually played quite well for a change," said Irwin.
"The funny thing was I almost didn't play in our club qualifier because I was playing bad at the time. Luckily for me I got talked into it on the day. It turned out to be a good decision. We're both very pleased.
"I have never played Royal St George's. In fact, I've never played any of the Open courses so I'm really looking forward to it. I'm sure it's going to be a great day."
"We're just pleased to get through," said Hutchinson, who has worked in the golf travel industry with Scotland Golf Tours but has never had the opportunity to venture south and play Royal St George's.
"I thought I'd blown our chances when I took a five at the first of the par threes but fortunately we made it.
"I remember watching Darren Clarke win the (2011) Open at St George's so it will be great to get a chance to play it. "We're both really looking forward to it."
The competitors at this year's R&A 9-Hole Challenge Final will be bidding to succeed Siobhan McHugh and Robert Kennedy who accumulated 35 Stableford points over the home course to win the 2019 competition at Royal Portrush.