First 12 Golfers Book Their Place In Medal Grand Final
Posted on 08/05/2021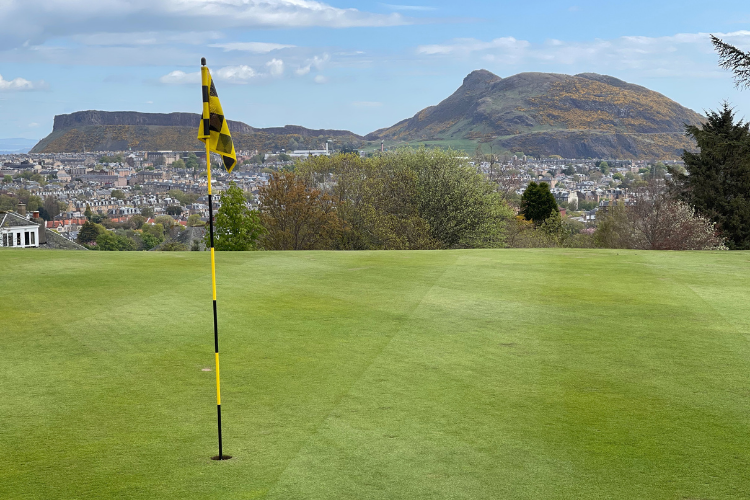 Tantallon plus one handicapper Kevin Mitchell carded a superb six under par 64 to win the men's event at the first of this season's Scottish Medal Finals at Craigmillar Park Golf Club in Edinburgh.
---
Live Coverage #SGMedalFinal
---
Mitchell's net 65 was matched by John Cochrane from Craigielaw but the Tantallon man snatched top spot at the East Final after a card countback.
Both men will now progress to the Scottish Medal Finals Grand Final to be staged at The Duke's, St Andrews, in September where they will be joined by George Brown (Niddry Castle), Steven Makepeace (St Boswells), James McAllister (Aberdour) and Gareth Pugh (Tantallon). Brown, Makepeace and McAllister all shot one under par net rounds of 69 while Mitchell's clubmate Pugh claimed the last of the six men's qualification spot with a net 71.
There was also a tie for first place in the concurrent women's competition with Musselburgh's Seline Stewart and Lochend's Jennifer Somerville both posting net three under par rounds of 69 with Stewart clinching top spot after another card countback.
Comiston Ladies duo Sarah Ledingham and Karina Matson also go through to the Grand Final at the Home of Golf together with Lochend's Mandy McBain and Craigmillar Park's Julie Rigg.
The Comiston Ladies pair both carded two under par net rounds of 70 while McBain and Rigg posted net rounds of 71. Niddy Castle's Annette McKay shot net 71 but lost out on a place at St Andrews after a card countback.
Mitchell's six under par 64 was the best gross round of the day. He reached the turn in one under par 34 with the help of an eagle on the 259-yard third and then birdied the 10th, 11th, 13th, 14th and 17th to storm home in 30.
"The eagle at the third was a nice way to get things going," he admitted. "I hit a 5-iron to about 20-feet and holed a nice putt. The conditions were pretty good considering the weather we've had.
"I had a bit of a game plan," he added. "I was a member at Craigmillar Park for a couple of seasons about 15 years ago so I knew you don't have to hit driver or 3-wood everywhere. I just tried to keep it in position. The back nine was pretty special and I missed from about three feet on the 12th for another birdie so it could have been even better.
"I haven't played the Duke's before so I'll maybe try to get up there for a game before the Grand Final."
14-handicap Cochrane would not be expected to match that sort of sustained excellence but he played to five shots under his handicap with net birdies at the first, seventh, tenth, 13th, 14th and 18th and a net eagle at the 274-yard second.
"It's the first time I've had the chance to play in a Scottish Golf event so I'm delighted to get through to the Grand Final at The Duke's. I played there about 15 years ago but I think it has changed a bit since then.
"I played steady," he added. "I'm very pleased."
Stewart and Somerville also used the strokes at their disposal to great effect while completing their rounds in net three under par.
Stewart survived an eight on the first hole to cruise home with a back nine of nett 33 which included four net birdies and a net eagle on the 469-yard par-5 14th.
"The round didn't start well because I hit my first shot out of bounds and ran up an eight," she said. "At that point I felt like going home but after that I settled down and start to play quite well.
"It just shows you you've got to keep going. It's great to get to St Andrews. That's something to look forward to.
The highlight of 31-handicapper Somerville's round came courtesy of a net eagle at the 399-yard par five fourth hole and she went on to play steadily with four net birdies and just two dropped shots.
"It's amazing," said Somerville. "I played the monthly medal at my home club the day before and played pretty badly so wasn't really expecting much.
"I played well. We were using the Scottish Golf App to score but weren't looking at the what was happening in the other groups. It came as I nice surprise when I found out where I was."
"It's mad. I've booked my B&B for St Andrews already."
The Scottish Medal Finals East event was the first of six regional qualifiers being played between now and the end of July with the next being staged this Friday (14 May) at Williamwood Golf Club in Glasgow. The top six men and top six women at each of those events will earn a place in the Scottish Medal Finals Grand Final at The Duke's, St Andrews, on Sunday 15 August.