Sisters Win the Commonwealth Spoons Final at Dullatur
Posted on 30/08/2021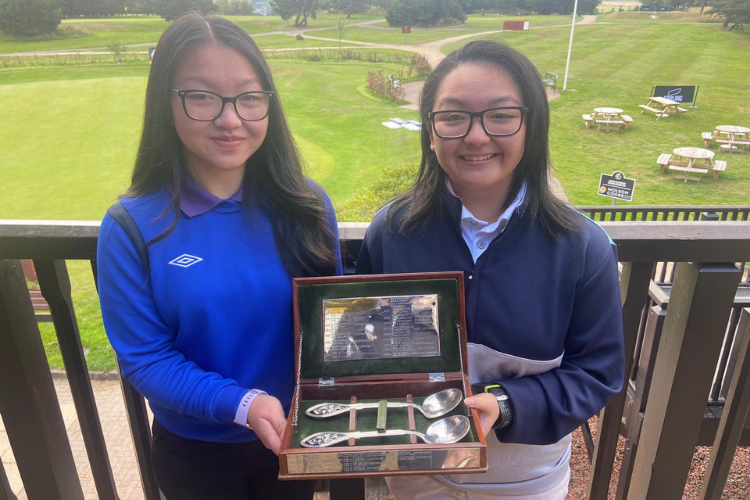 Sisters Teresa and Venessa Ho produced a fine back nine to win the 2021 Commonwealth Spoons Final over the Carrickstone course at Dullatur Golf Club near Cumbernauld.
The Newton Stewart members were four over par at the turn but came home in three under par to post a net one over par 73 and complete a three-shot victory over Hilary Cunningham and Morag Brydson from Dunkeld and Birnam Golf Club.
The Ho sisters got off to an unfortunate start with a double bogey on the 126-yard par-3 opening hole. Net birdies on the second and the fourth got them back on track before another double on the fifth plus a bogey on the sixth saw them drop back to three over par for the round.
The pair then carded a third birdie of the round on the seventh before a double bogey on the eighth plus a par on the ninth completed an outward half of net 40.
At that stage the pair were languishing off the pace but net birdies on the 10th, 13th and 15th saw them take the lead and three pars to finish were enough to complete the job and win a trophy donated to Scottish Golf by the Australian Ladies Golf Union.
"It's great to win such a big event," said Teresa. "It was very tricky out there. We had a bit of an iffy front nine but played much better on the back nine.
"I holed a couple of good putts and Venessa's chipping was on fire.
"It has made our day," she added. "We didn't really know what to expect when we started so to win is very special for both of us. It's something we will remember for a long time."
"It has been a fantastic day and we're both delighted to win," confirmed Venessa.
"We'd like to thank the Galloway Ladies for all the support and encouragement they've given us. Without them we wouldn't have had the chance to play and compete today so we're very grateful to them."
Cunningham and Brydson also made a late move with a net one on the 12th and a net two on the 15th to post a 76 and finish a single shot ahead of Helen Wilson and Sarah Parker from Drumpellier Golf Club.
Kilspindie's Elaine Wolstencroft and Elizabeth Grandison and Kemnay's Carol Whicher and Yvonne Moir shared fourth place on net 78 while Mara Lindsay and Christine Macleod from Prestwick St Nicholas were alone in sixth place on net seven over par 79.