Semi Finalists Set for Sunday Showdown at Gullane
Posted on 05/06/2021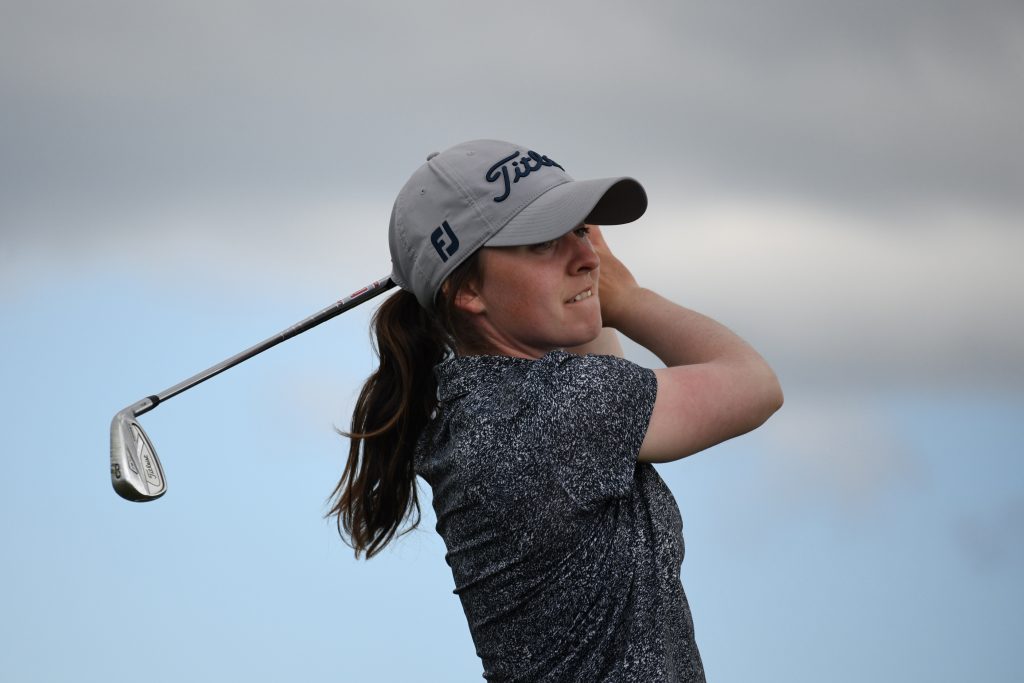 Hannah Darling's hopes of claiming her first national women's title remain very much alive after reaching the semi-finals of the 2021 Scottish Women's Match Play Championship at Gullane.
Just six days after victory in the St Rule Trophy at St Andrews the 17-year-old Broomieknowe and Gullane member beat Ellen Caton (St Regulus) 5 & 4 in the first round and followed that up with a 4 & 3 victory over fellow GB & I Curtis Cup squad member Shannon McWilliam (Aboyne) in the afternoon.
Darling spent most of the week sitting sixth-year school exams at Lasswade High School but it clearly has not affected her golf because the 2017 and '18 Scottish Girls' champion was never behind in either of her matches against Caton or McWilliam.
"It feels great to have the opportunity to get another win tomorrow but I don't really want to think about that," she said. "I just want to do my own thing, play my game and see what happens.
"I think being a member at Gullane almost puts more pressure on because I'm meant to know the course. But I played it hundreds of time over the winter. I know how the course plays so that has got to be some sort of advantage.
Tomorrow I'm just looking forward to going out and enjoying it again. I'm playing with Chloe who I'm good friends with so it will be nice to go out, hopefully play well and enjoy the nice weather while it's here."
Darling will now face 2019 runner-up Chloe Goadby in the semi-finals after the St Regulus player beat Rachel Foster (Prestwick St Nicholas) by one hole in their quarter final match. Earlier in the day she had needed to go all the way to the 23rd hole before getting the better of Auchterarder's Penelope Brown so not unnaturally she was feeling a few aches and pains after her two games.
"It was a long battle this morning," Goadby admitted. "23 holes felt like it was never ending. We both had chances earlier on. It was just a good battle and great to get it done in the end.
"They pushed back my tee time a little bit for the afternoon so I had about half an hour to have a quick turnaround and grab something for my lunch. I played quite steadily against Rachel although I admit I was very tired towards the end.
"I'm looking forward to playing Hannah tomorrow," she added. "She's a great player. I think I've just got to stick to my own game and hope I can get something going. Anything can happen once a few putts start to drop."
In the other half of the draw, 2015 champion East Lothian champion Tara Mactaggart (Minto) will face 2015 Scottish Women's champion Clara Young (North Berwick) in the last four.
Mactaggart (Minto) reached the semi-final of the 2019 championship at Kilmarnock (Barassie) and now has a chance of going one better after a two year interlude caused by Covid-19. She beat Aboyne's Carmen Griffiths by one hole in a tight match in the morning and then dispatched Luisa Gibson by 4 & 3 in the afternoon.
"Match play is very different to stroke play," said Mctaggart. "It's a big change in mentality. In the stroke play rounds I felt you had to play quite conservatively to qualify but in match play you can afford to be a bit more aggressive.
"To be honest I didn't really have a game plan against Carmen or Louisa. I just set out to let my opponents make the mistakes and try to be there to make the putts when I needed to which is exactly what I did against Louisa.
"Obviously getting the job done in East Lothian – now my home – would be indescribable. Winning the East Lothian Ladies' three or four weeks ago was very special and even to make the final here would be great."
Young had to do it the hard way. After only scraping into the match play draw on a card countback after the previous day's 36-hole stroke play qualifier she had to go to the 19th hole to beat Louise Duncan (West Kilbride) in the first round and then went the same distance again after lunch before finally getting the better of Jennifer Saxton (Dunfermline).
"I played with Louise yesterday and she was fantastic in the second round," said Young. "Her putts didn't quite fall today though and I holed a few good ones. Jen teed off first at the 19th hole in the afternoon and hit driver just in front of the green. That took away any indecision I might have had about strategy. I was just trying to drive the green and make a birdie.
"I'm going home to have a rest now," she added. "I know it'll be a tough match against Tara because we've played a lot of golf with each other over the years but I'm looking forward to the challenge."
In the second flight competition for the Clark Rosebowl there is a chance that two Blairgowrie players will contest the final. Megan Ashley beat East Kilbride's Susan Woodhouse 2 & 1 in their quarter final and will now come up against Isla McDonald-Obrien (Shrewsbury). Meanwhile Ashley's Blairgowrie club-mate Katy Alexander will play Bishopbriggs' Megan Docherty in the semi-finals after a 19th hole victory over Royal Troon's Freya Russell.