Scottish Seniors triumph at Pyle & Kenfig
Posted on 03/10/2022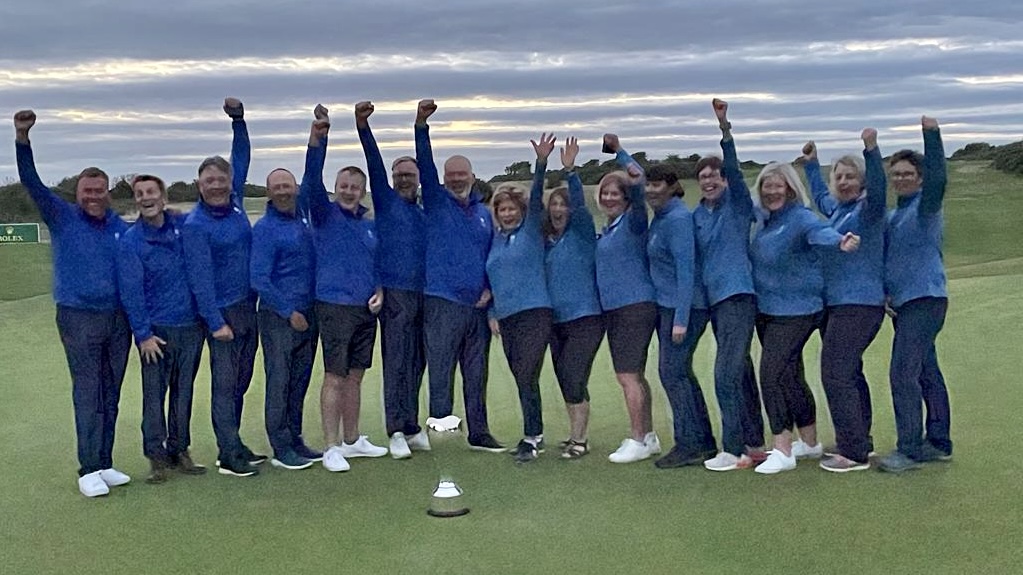 In its first year as re-formatted championship, The Women's and Men's Senior Home Internationals trophy was won by our very own Scottish Seniors, with a score of 3/3. Men's and Women's Seniors were played in parallel this year at Pyle & Kenfig, in a change to the established format. Ireland were worthy runners up on 2 points; England third and Wales fourth. 
Captained by Fiona de Vries, the Scottish team scooped victory on the final day's play by defeating Ireland 11.5- 6.5 overall, and a stunning 5-1 win in the foursomes.
As reported by the R&A, de Vries commented: 'It's been a fantastic team effort from start to finish. It's been an amazing experience. We've all got on really well together, we've had fun and we've played great golf.'
To win the morning foursomes against a strong Irish side was phenomenal,' added de Vries. 'If you've asked me if we'd have been 5-1 up I'd have bitten your arm off. It gave us the momentum we needed going into the singles. I had faith we'd come through.'
Scottish men's captain Clark, is reported as commenting, 'I've been on a winning Home Internationals team before and I've had European success, but to get this win as captain is special. The team was evenly balanced and there was no obvious player to leave out each day, so that was the hardest part of my job. It was a battle this week and I'm just so thankful to come out on top. Wow! Absolutely brilliant.'
Kathyrn Imrie who has worked with several of the Scottish Golf national teams this season as a Performance Manager said, "What an outstanding achievement! It's always great to see Scotland do well at the Home Internationals and we'll do our best to do the same next year – they've inspired us all!"
Scottish Golf Director of Pathways & Coaching, Stuart Clayton said, "It's fantastic to see the work, effort and dedication that the Senior Men and Women have put in this year ahead of their respective team championships paying off.  We were fortunate to be able to have coaching support from Peter Whiteford, Spencer Henderson and Kathryn Imrie, which helped enormously and added value to their preparations. Scottish Golf could not be prouder than to see them be victorious in the Senior Home Internationals.  The passion, drive and commitment that the team have shown is inspiring for all!"
The 2024 Home Internationals will be played at West Kilbride Golf Club, Scotland, from 19–21 September next year. Final scores can be found here.
Scotland's team members were as follows: 
Ronnie Clark, Erskine (Men's Captain)
Karen Ferguson-Sneddon, Mortonhall
Kenny Gallacher, East Kilbride
Stewart Henderson, Hamilton
Robert Jenkins, Royal Troon
Gillian Kyle, East Renfrewshire
Diane MacDonald, Dumfries & County
Karen Marshall, Baberton
John Mathers, Haggs Castle
Elaine Moffat, St Relugus
Paul Moultrie, Royal Troon
Wendy Nicholson, Baberton
Nick Robson, Royal Aberdeen
Sheena Wood, Aberdeen Ladies