Scottish Golfers Tee It Up With Horschel and Forrest at Scottish Open Thanks To VisitScotland
Posted on 19/07/2022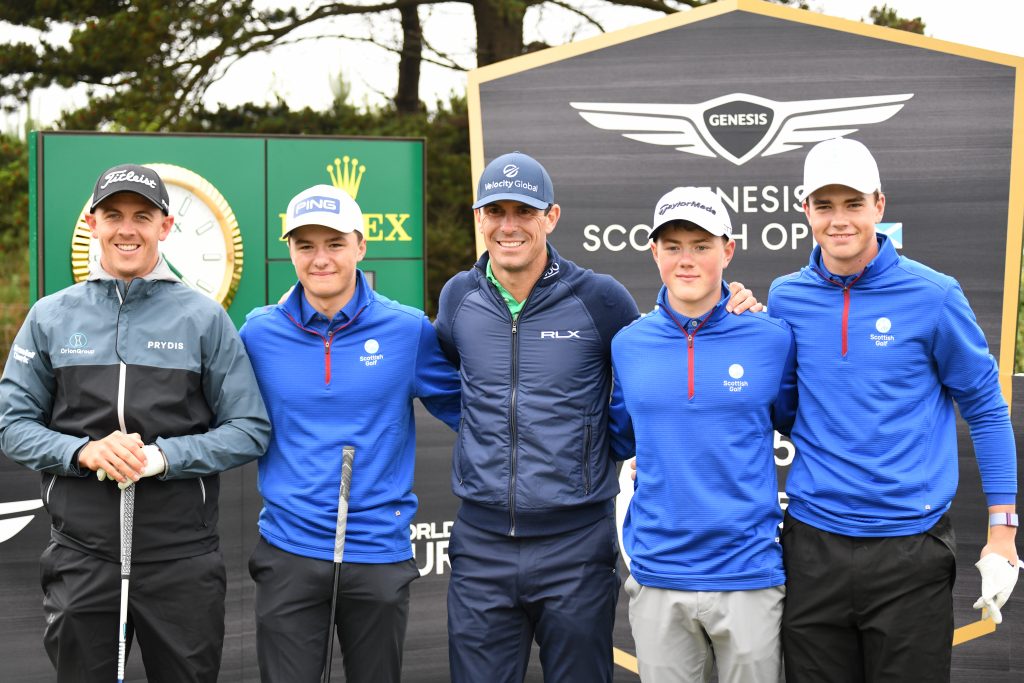 Three young Scottish golfers were given the opportunity of a lifetime to tee it up in the Pro-Am at the Genesis Scottish Open on Wednesday, getting to play the front nine with 2014 FedEx Cup winner Billy Horschel and the back nine with Scottish DP World Tour winner Grant Forrest.
The event, co-sanctioned by the DP World Tour and PGA Tour, saw 14 of the world's top-15 golfers teeing it up at The Renaissance Club in North Berwick.
18-year-old Cormac Sharp, 17-year-old Andrew Hendry and 16-year-old Dylan Cairns were the lucky recipients of three spots in the Pro-Am, thanks to an invite from The Scottish Government via VisitScotland.
World number fourteen Horschel said, 'When I look at them and think of myself at that age, they're already more technically sound and better golfers than I was at that age. I think if you put in the time and really work hard then you believe in what you're doing and good results will come, usually good things happen.'
The three Scottish players made the most of the opportunity to play with Billy and Grant, picking their brains on the way round and finding out what it takes to make it at the top level.
Speaking after the round, Andrew Hendry said, 'It was just an absolute pleasure to play in the Scottish Open Pro-Am. Billy was probably one of the best ball strikers I've ever seen and he was such an honest, humble guy. He gave a few pointers on the first that really helped and he was just an all-round nice guy.'
Dylan Cairns added, 'It's not every day you get to play with winners on Tour such as Billy. He was a down to earth guy, one of the best personalities on tour. Getting to play with Grant Forrest on the back nine was good, seeing him hit the ball an absolute mile.
Completing the excited trio, Cormac Sharpe told Scottish Golf, 'It was amazing, playing with two unbelievable pros was just a joy. Getting to play off of the back tees was really enjoyable as well. I'd like to thank VisitScotland and Scottish Golf for giving me the opportunity to play with these pros and play the course.'
Karin Sharp, Chief Operating Officer of Scottish Golf, said: "It is a great opportunity for these young players to have had the chance to play with some of the best players in the world and is undoubtedly a valuable learning experience for them. It aligns with the wider values of the Scottish Golf Performance programme where we look to create the best possible player environment and opportunities for them to continue to develop.
"We recognise players as individuals and know that each one of them will take their own learnings from this great experience, which we hope will motivate, inspire and help them move their game forward.
"We'd like to thank VisitScotland for the invaluable experience for these young golfers, I'm sure it is one that will stay with them for a long time.
VisitScotland's Senior Golf Manager, Alan Grant added, "We are delighted to offer this opportunity to these young golfers and give them, not only the chance to play on a tournament course, but also gain insight and first-hand experience playing alongside some of the world's top golfers. We have seen numerous success stories from previous Scottish Golf teams who have played in these Pro-Ams and have no doubt we will see great things from Cormac, Andrew and Dylan in the future"