Scottish Golfers Tee It Up With Dryburgh At Trust Golf Women's Scottish Open Thanks To VisitScotland
Posted on 04/08/2022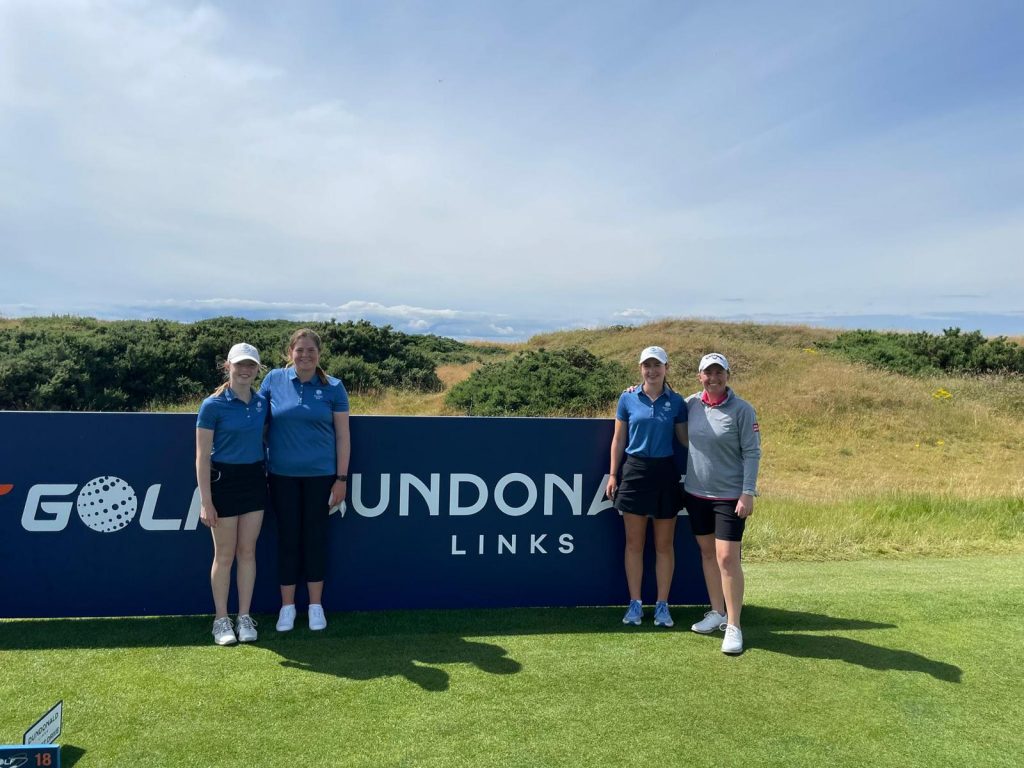 Three young Scottish golfers were last week given a fantastic opportunity to tee it up in the Pro-Am at the Trust Golf Women's Scottish Open on Wednesday, getting to play with Scottish professional Gemma Dryburgh.
15-year-old Grace Crawford, 17-year-old Freya Constable and 21-year-old Lorna McClymont were the lucky recipients of three spots in the Pro-Am, thanks to an invite from The Scottish Government via VisitScotland.
All three players are competing in the Home Internationals this week, Grace and Lorna for the Ladies, and Freya for the Girls.
Speaking about playing with the girls, LPGA Tour player Dryburgh said, 'The fact that they've been asking me a few questions has been nice. I'm happy to share all my knowledge and any advice I've got. I'm happy to help them in the future as well.
'They're all at different stages of their amateur career but I'll be seeing them in the future, I'm sure.'
The three Scottish players made the most of the opportunity to play with Gemma, picking her brain on the way round and finding out what it takes to make it at the top level and finding out how she got to where she is today.
Speaking during the round, Grace Crawford said, 'It's such a good opportunity, I'm loving it. The way she went through the system, learning about that and the path she went down is interesting.'
Lorna McClymont added, 'The course is in unbelievable condition. Just being in the environment of it, it's nice to get to play in it and get this sort of experience.'
Completing the trio, Freya Constable told Scottish Golf, 'It's insane, it's nice to see it against pros. Gemma is a great player. It's good to see if this is what I want to do in a couple of years, even on the range seeing all the pros gives me a good feel if this is something I want to do.'
Karin Sharp, Chief Operating Officer of Scottish Golf, said: "This is another great opportunity for these young players. It aligns with the wider approach we try to take with our performance players at Scottish Golf where we look at wider input and opportunities such as taking part in events like this to learn, grow and fulfil their ambitions as players.
"There are lots of technical skills that coaches can help them with but to have the opportunity to come and play in an event such as this and to speak with top pros gives them a completely different perspective and hopefully some valuable insight to develop them as individual golfers.
"We'd like to thank VisitScotland for the invaluable experience for these young golfers, I'm sure it is one that will stay with them for a long time.
VisitScotland's Senior Golf Manager, Alan Grant added, "We are delighted to offer this opportunity to these young golfers and give them, not only the chance to play on a tournament course, but also gain insight and first-hand experience playing alongside some of the world's top golfers. We have seen numerous success stories from previous Scottish Golf teams who have played in these Pro-Ams and have no doubt we will see great things from Grace, Freya and Lorna in the future"