Scottish Golf welcomes over 150 Club Officials to its first Zoom Panel Call to support Affiliated Clubs
Posted on 23/04/2020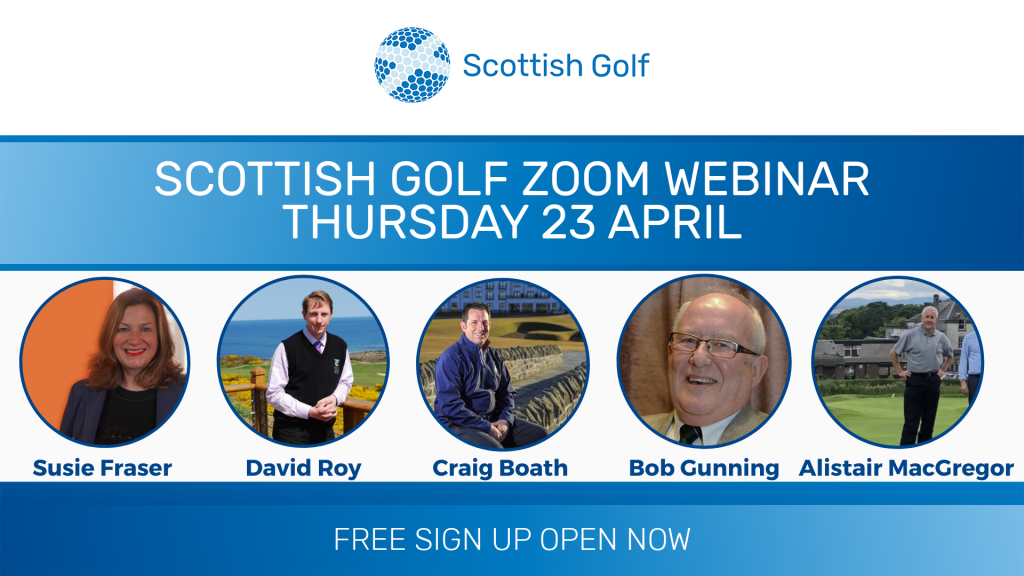 Scottish Golf today welcomed over 150 golf club managers and officials from across the country to its first Zoom Panel call set up to support all affiliated golf clubs across Scotland during the current COVID-19 outbreak.
The call was facilitated by Scottish Golf's Club Business Manager, Iain Evans, delegates gathered online to hear valuable insight and experience from Alistair MacGregor, Bob Gunning, Craig Boath, David Roy and Susie Fraser as the panel of experts answered the most frequently asked questions submitted by attendees on club management, visitor revenue, financial planning, course management, marketing and communications. 
Unable to make the session? Watch the YouTube video.
Iain Evans, Club Business Manager at Scottish Golf said, "We are delighted that today's webinar was able to bring together so many golf club officials to share information during these difficult and uncertain times. It was pleasing to see that the retention rate for our first call was 97% and we are grateful to our five excellent panellists who all contributed to the success of today's session.
"Everyone at Scottish Golf recognises the importance of working together to share best practice and we believe that by hosting these online sessions, we can ensure golf is in a position to flourish once Government restrictions are relaxed."
Fife Golf Trust's CEO, Alistair MacGregor commented, "The Coronavirus pandemic will be a major challenge to golf clubs across Scotland but also presents an opportunity to pilot the radical change that I believe is necessary if clubs are to reverse more than 15 years of decline in membership levels that targets under represented demographics such as women and families with a greater focus on the health and well-being benefits of golf whilst strengthening ties with local communities that will need local healthy leisure options."
Scotland's Golf Trust Treasurer, Bob Gunning said, "I was pleased to take part in today's Scottish Golf webinar and hope the Clubs found it beneficial at this troubling time. It was also interesting to hear the views of the other panel members."
Carnoustie Links' Superintendent, Craig Both added, "During these unprecedented times communication is a great tool and we should try and use it to the best of our advantage through webinars such as these. We are all in this together and we must try and help each other out with different ideas and how to deal with different challenges going forward. Looking forward to the next webinar."
David Roy, Club Manager at Crail Golfing Society said, "I think the webinar format is a good way for us, as the golf club industry, to work collaboratively and hear some useful advice from our peers. There is already a great deal of information readily available online, but it is always good to hear first-hand what is happening in practice."
ADEO Group's Managing Director, Susie Fraser commented, "It is so refreshing to see such a pro-active approach to communicating with the clubs. During such unprecedented times, when each and every one of us has been impacted by COVID-19, working collaboratively and positively is so important."
Today's online call was the first in a series of Zoom Panel sessions that Scottish Golf will deliver for all affiliated clubs with details of the next session set to be confirmed in the coming days.