Scottish Golf join forces to deliver new Scottish Junior Flag Championship
Posted on 11/03/2020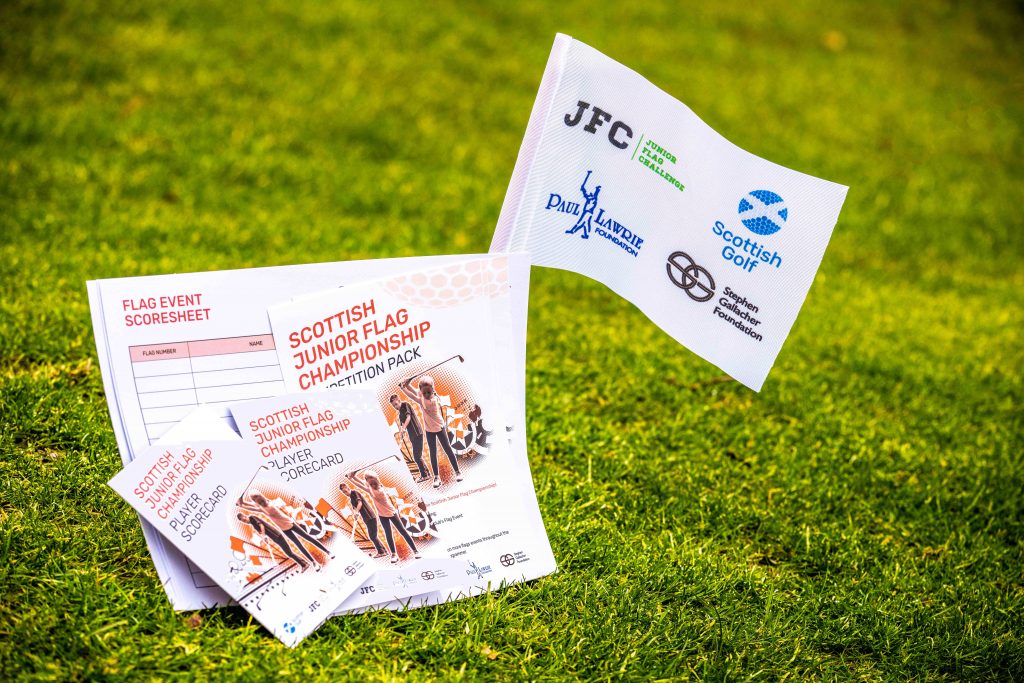 Scottish Golf is pleased to announce an exciting new series of events in partnership with the Stephen Gallacher Foundation, Paul Lawrie Foundation and The Junior Flag Challenge. The first ever Scottish Junior Flag Championship will see all three organisations work together with golf clubs to increase the provision of Flag Golf Events for junior golfers across the country.
Taking place in all regions of Scotland, the new Championship is designed to create playing opportunities for golfers in the early stages of their development while also supporting golf clubs to retain more junior members. This will be achieved by introducing golfers, who are under the age of 12 and without a handicap, to competitive golf in a fun and friendly environment.
The new partnership will allow clubs to stage their own Flag Events and will provide players with opportunities to progress from coaching programmes at their own club into competitive golf. Juniors will play on a shortened 9-hole course with a modified scoring format. Each player will be given a flag and starting at the first hole, they will have 36 shots to play as many holes as possible, placing their flag where their 36th shot finishes.
Golf clubs can now register to take part in the Scottish Junior Flag Championship and once entered they will be provided with a competition pack that provides resources required to stage a Flag Event for eligible juniors at their club. The top four players from club qualifier events will then be invited to represent clubs at the Regional event hosted by one of our three partners.
Speaking about the new format, Scottish Golf's Junior Development Manager Gavin Forrester said, "This innovative event format has proved popular across our partners' junior events and we are looking forward to working together with both Stephen Gallacher and Paul Lawrie's Foundations as well as The Junior Flag Challenge to deliver this new event to ensure it is successful for everyone involved on the frontline of junior golf. We are very keen to encourage clubs to get kids out on the course playing in fun competitions and this format is a great way of doing that.
Events and competitions like the Scottish Junior Flag Championship are a key area in our new National Junior Framework which will be rolled out in the coming months and to be working in partnership with Paul and Stephen's Foundations, who do so much great work for junior golf, is a big step forward."
Michael MacDougall, Foundation Manager at the Paul Lawrie Foundation said, "Delivering these events alongside our partner organisations is something we're looking forward to and we believe that the Scottish Junior Flag Championship will provide a great competition pathway for grassroots golf in Scotland. The resources that clubs will receive have been developed in partnership with those on the frontline of junior golf so that clubs can continue to deliver these events throughout the season, adding to their junior activity."
Scott Knowles, Manager at the Stephen Gallacher Foundation said, "We are delighted to be working in partnership with Scottish Golf to support the delivery of these flag events with golf clubs throughout Scotland. By working together, this initiative will provide young people with a good opportunity to learn and develop on the course. These easy to organise events will also be a great addition for clubs to deliver flag events as part of their junior programme."
Gregg Sommerville, Director at Junior Golf said, "This is the first of two events we are working on with Scottish Golf as part of the new National Junior Framework. We know that young people in golf want more chances to compete for their club as part of a team and the Scottish Junior Flag Championship is a really exciting series that will provide young golfers across the country with this opportunity."
To find out more information on the Scottish Junior Flag Championship and how your club can participate, please click here.