Scottish Golf Club Support Funds are open
Posted on 26/01/2022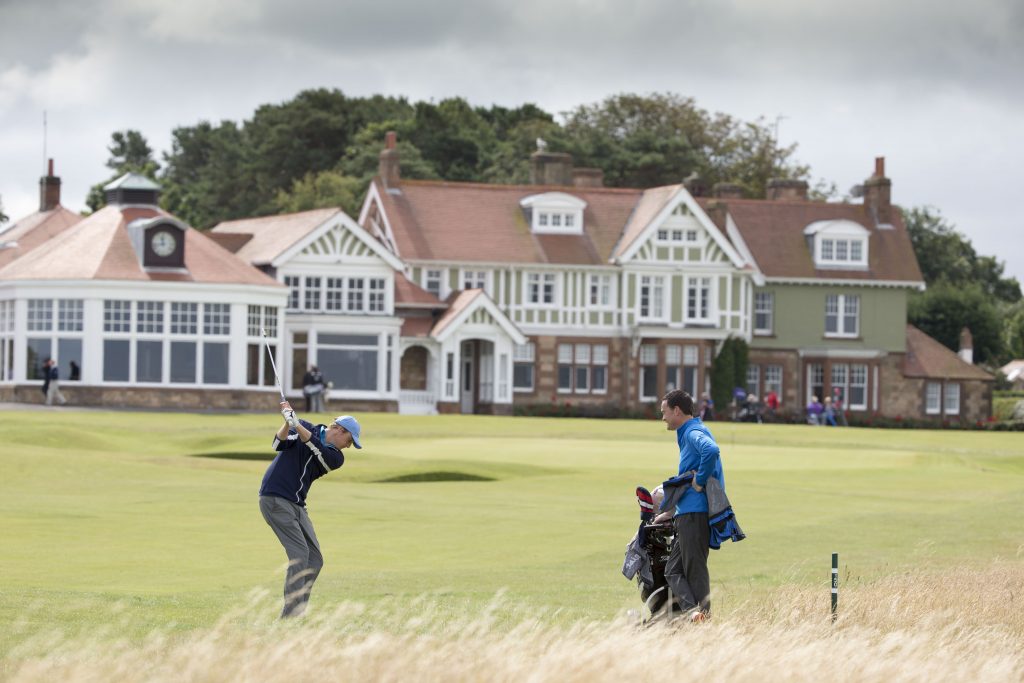 Scottish Golf's 2022 Club Support Funds open on 26 January to all affiliate clubs
In 2022, Scottish Golf is once again providing clubs with a variety of business support initiatives and opportunities to access funding.
Membership Marketing Fund
Visitor Marketing Fund
Players 1st Membership Survey
Club Education Fund
For each of these opportunities, we expect demand to exceed availability, so please take the time to ensure you provide all relevant information as part of your application.
---
FUND LAUNCH – Wednesday 26 January
FUND CLOSES – Friday 25 February

Golf club membership is the bedrock of golf in Scotland, and, over the last two years, there has been a welcome increase in membership numbers across Scotland. Scottish Golf is offering support for clubs to grow their membership with our Membership Marketing Fund.

Scottish Golf is inviting clubs to apply for funding of up to £500 per club towards Membership Marketing, comprising:

– Membership recruitment campaigns through paid social media advertising (£100 minimum, £200 maximum)
– Optional professional photography and video to showcase your golf club to potential members (up to £300)

The Club Business team will also be delivering free workshops and further resources for clubs to provide best practice guidance, examples, and live demos of how to create social media graphics and paid adverts to get results. These workshops will be delivered via Zoom and more information will be communicated around these in due course.
---
Visitor Golfer Planning Support **NEW**
FUND LAUNCH – Wednesday 26 January
FUND CLOSES – Friday 25 February

We are very pleased to introduce a new funded initiative – Visitor Golfer Planning Support.

Scottish Golf are keen to support delivery the Scottish Golf Tourism and Visitor Strategy 2021-2030 where we can, and recognise the importance of visitor marketing to clubs across the country.

Visitor marketing experts Platform77 will be providing hands on support for our affiliated clubs and will deliver a bespoke sales and marketing plan for 50 clubs across Scotland.

While visitor marketing has possibly been considered as the overseas golfer, Platform77 will help clubs to focus in on the opportunity local golfers provide, such as increasing green fee and clubhouse revenue and increasing engagement with local community groups and businesses. Platform77 will work with clubs to produce a plan to achieve club-specific goals.
---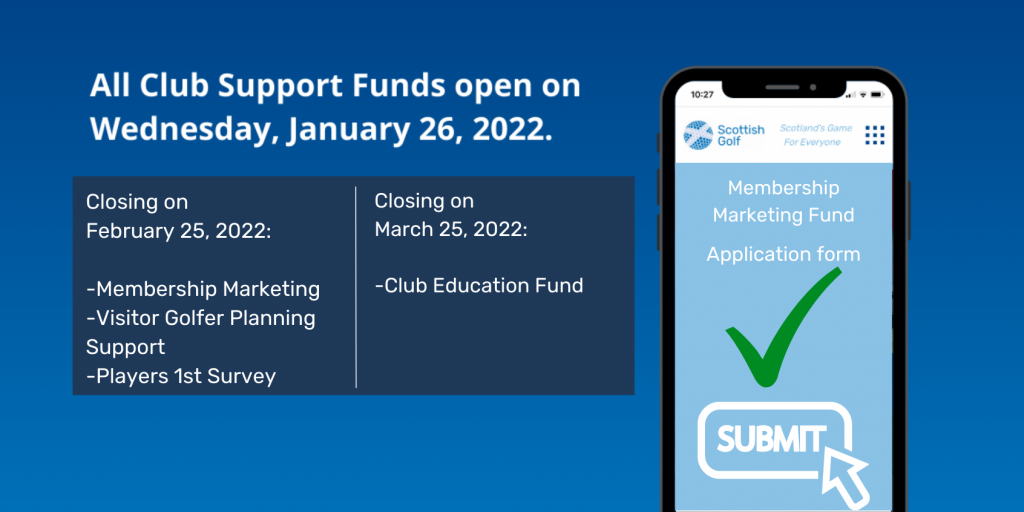 ---
FUND LAUNCH – Wednesday 26 January
FUND CLOSES – Friday 25 February

Players 1st will provide affiliated clubs across Scotland with the opportunity to access a market-leading digital survey platform free of charge. This would normally cost around £500.

Players 1st is designed to help retain and recruit members by helping clubs gain a better understanding of members' wants, needs and opinions on what's on offer. The survey is customisable to your club's needs.

This is a unique online platform that allows you to collect survey-based feedback direct from your members and benchmark different operational areas of your business. This means you get invaluable feedback direct from members which can help inform how you plan improvements and direct investment.
---
FUND LAUNCH – Wednesday 26 January
FUND CLOSES – Friday 25 March

Each affiliated club will be able to apply for up to £300 for the the training and development of any staff member or volunteer at the club, to benefit the overall club operation.

There are numerous organisations and individual consultants who can provide support across a multitude of competencies. The list below is not exhaustive, the key goal of the funding is to provide relevant education or training which will help equip club staff or volunteers with the skills or knowledge to meet the needs of your golf club operation.
Organisations who provide training and education relevant to golf clubs include:
Scottish Golf and Club Managers Association (SGCMA)
Club Managers Association of Europe (CMAE)
Golf Club Managers Association (GCMA)
British and International Golf Greenkeepers Association (BIGGA)
The Professional Golfers Association (PGA)
The R&A
Third Sector Organisations:
sportscotland (safeguarding)
First Aid Cooperative
St Johns
Children First (CWPO)
Any recognised higher education institution e.g., universities and colleges
Any registered charity
Any recognised industry body providing accredited qualifications