Scottish Golf seeks two non-executive directors for Board
Posted on 08/11/2022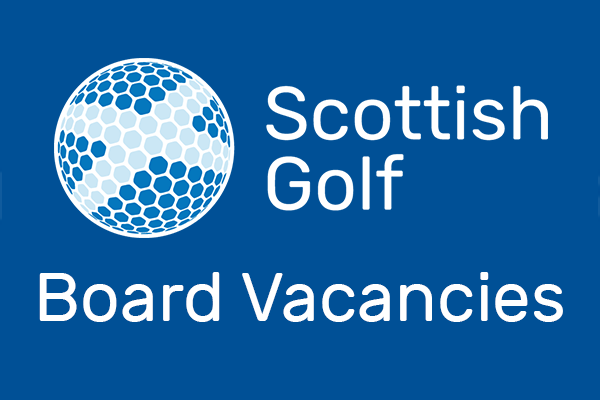 Do you have a love of golf and want to contribute to transformational change within the game in Scotland? Candidates are now being sought for two non-executive director roles on the Board of Scottish Golf Limited.
Scottish Golf is the governing body for the amateur game in Scotland, established in 2015 and serves to support a membership of almost 600 golf clubs located across almost every community in Scotland.
All Board roles are voluntary positions, non-remunerated other than reimbursement of reasonable expenses and more details are provided in the accompanying role descriptor.
Our commitments to the game are to make golf Scotland's game for everyone, where we inspire a nation to love the sport in all its forms and contribute to a healthier and more inclusive game for the future. As a member organisation our key focus is in providing quality support services to our member clubs to ensure they can prosper and to bring significant additional revenue from new sources for reinvestment and growth of the game nationwide. Our key drivers are to ensure we support our member clubs to be resilient, sustainable and prepared for the future and do this through a range of core services, education support and partner expertise. Growing the game and nurturing talent, alongside showcasing golf as a welcoming, inclusive sport are also of critical importance and doing so using data lead evidence, with a strong technology infrastructure at all levels, to ensure the game continues to evolve whilst retaining the important heritage and history at its core are key deliverables within our strategic plan.
We are looking for non-executive directors with particular strengths in External Communications and/or Golf Tourism at a strategic level. Our successful candidates will have a passion for sport, strong strategic and operational experience from their professional career and/or within the game and the ability to build on the existing strong foundations and take Scottish Golf to the next phase in its development by meeting the challenges that lie ahead. The individuals will be forward thinking, self-motivated, embrace technology and be highly driven to make a positive and meaningful contribution to the continued development of Scottish Golf. Previous experience of operating at Board level is desirable, though not essential.
If you have the appetite, passion and experience to be part of an exciting future for golf in Scotland, putting "participation for all" at the heart of what we are delivering across communities, then please get in touch.

Role Descriptions:

Please see below the role descriptions for these vacancies:

Scottish Golf Non-Executive Director Role Description

How to apply:
Applications, consisting of CV and covering letter, should be emailed marked for the attention of the Company Secretary to [email protected]

The closing date for applications is 22nd November 2022 at 12 noon.