Candidates Sought for Scottish Golf Board
Posted on 28/09/2020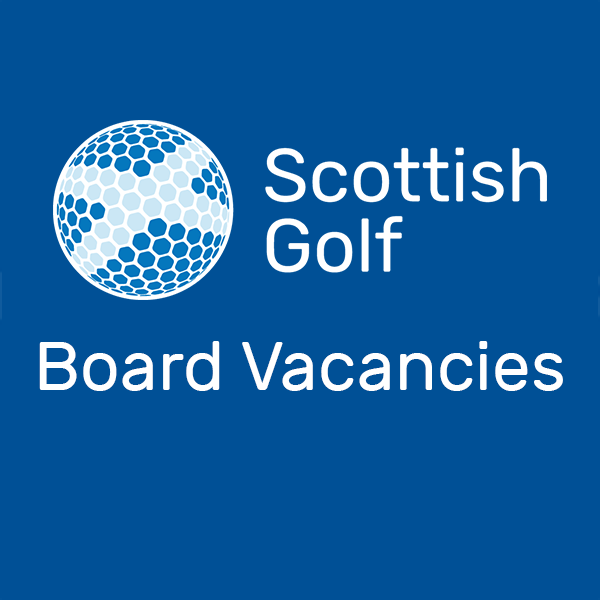 Do you have a love of golf and want to contribute to transformational change within the game in Scotland? Candidates are now being sought to succeed the inaugural Chair, as well as three non-executive director roles on the Board of Scottish Golf Limited.

Scottish Golf is the governing body for the amateur game in Scotland, established in 2015, and serves to support a membership of almost 600 golf clubs located in communities the length and breadth of the country.

Scottish Golf Chair Eleanor Cannon, and non-executive directors Stewart Darling, Bill Woodley and Sean Duffy, are stepping down in March next year and the organisation is inviting applications from those in the Scottish golfing community who wish to play a key role in leading our sport in the years ahead.

Our commitment to the game is to make golf Scotland's game for everyone, where we inspire a nation to embrace the sport in all its forms and contribute to a healthier, inclusive and aspirational Scotland. As a member organisation, our key focus is in providing quality support services to our member clubs to help ensure they can prosper and to bring significant additional revenue from new sources for reinvestment and growth of the game nationwide.

Scottish Golf conducted a survey during August 2020 of both affiliated clubs and their members. The results of that survey show Scottish Golf to be in a strong position. Members stated that the organisation is well-established with high levels of awareness from golfers, strong golfer engagement through Scottish Golf communications, and an understanding of how affiliation fees are used to benefit the sport.

Following approval by members in 2018, Scottish Golf has also invested in a new digital platform. The Venue Management System is a comprehensive suite of software tools that enable golf clubs to manage club facilities and resources, improve membership administration and control non-member booking and pricing. The Scottish Golf App enables golfers to book tee times and golf lessons, enter competitions and submit digitally signed scorecards via the App. Critically, it is the only digital scorecard that offers contactless event sign-in, and scoring verification and submission which fully complies with the Rules of Golf. The system is now fully operational in around 40 clubs, with a further 130 clubs in the process of adoption. With strong interest from more than a further 150 clubs, Scottish Golf's VMS is increasingly being adopted across the country and underpins the future strategy for the organisation.

The successful candidates will have a passion for golf, strong strategic and operational experience from their professional career and/or within the game, and the ability to build on strong foundations to take Scottish Golf to the next phase in its development. The individuals will be forward-thinking, self-motivated, will embrace technology and be highly driven to make a positive and meaningful contribution to the continued development of Scottish Golf.

Previous experience of leading and chairing a board and experience of working with multiple partners is essential for the role of Chair.

All Board roles are voluntary positions and are non-remunerated, other than the reimbursement of reasonable expenses.

If you have the appetite, passion and experience to be part of an exciting future for golf in Scotland, putting "participation for all" at the heart of the game, then please get in touch.

Role Descriptions:

Please see below the role descriptions for these vacancies:

Scottish Golf Non-Executive Chair Role Description
Scottish Golf Non-Executive Director Role Description

How to apply:
Applications, consisting of CV and covering letter, should be emailed to [email protected]

The closing date for applications is 23 October 2020 at 12 noon.