Ronnie Clark Crowned 2022 Scottish Senior Men's Open Champion
Posted on 17/06/2022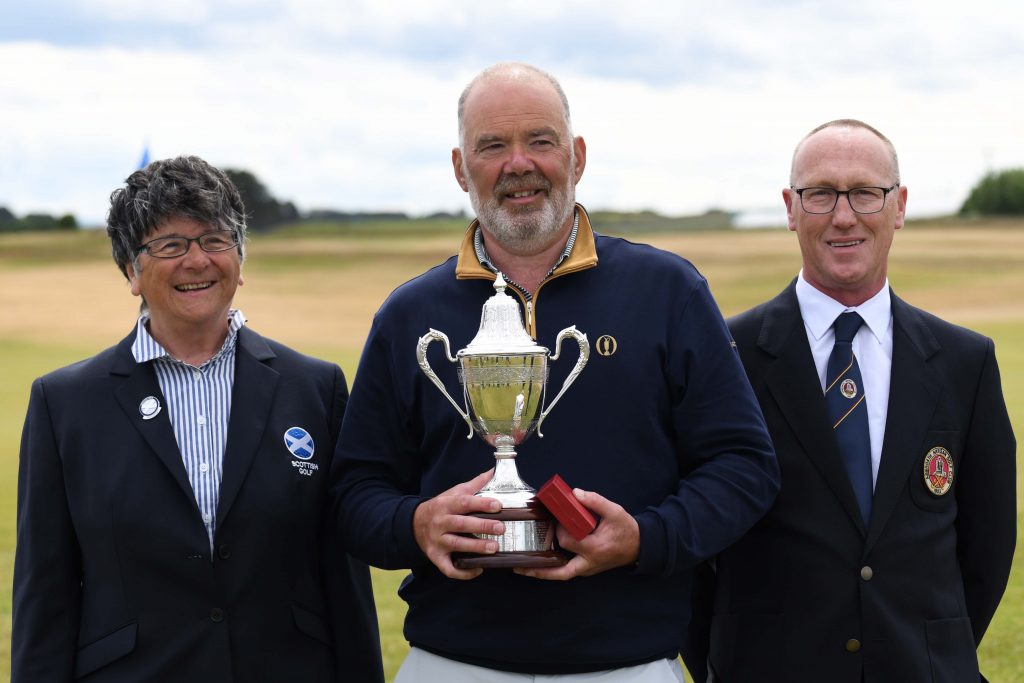 Erskine's Ronnie Clark was crowned Scottish Senior Men's Open Champion for the second time this afternoon at Arbroath Golf Club.
Despite tough conditions, Clark posted an impressive round of 69, to finish three shots clear of overnight leader Paul Moultrie, adding to his win in the same event in 2018.
With three holes to go in his second round, Clark was on -2 for the week, eight shots adrift of the lead. However, a birdie-eagle-birdie finish on Thursday lifted him into contention, just four shots behind Moultrie.
Moultrie had followed up his course record 63 (-7) in the opening round with another impressive round of 67 (-3) on day two which saw him take a two-shot lead over England's Stephen Creed heading into the final day.
Conditions were tough at Arbroath today, and with the opening stretch playing into the wind, early bogies for several of the players saw the leaderboard bunch up.
At the turn, Moultrie had dropped back to -7, just two ahead of Clark, who birdied the 9th.
On to the home stretch, bogies on 12 and 14 for Moultrie saw him head into the final four holes tied for the lead with Clark who started the inward half with five pars.
The 15th proved to be the pivotal hole.
Clark made a stunning eagle 2 while Moultrie had to settle for a bogey and with just three holes to play, the Erskine member suddenly had a three-shot lead.
Over the closing three holes, Clark held his nerve with three pars to ensure he would be lifting the trophy. Moultrie played the same stretch in level par to finish runner-up for the second year in a row.
Speaking to Scottish Golf after lifting the trophy, a delighted Clark said, 'It feels terrific. I had a pretty difficult season last year so to come out and win it this year is pretty special. You start to feel you'll maybe not win again but I played pretty solid.
'It was gusting up to 40mph out there at times, but you just have to stay patient. I had a double bogey early on but in conditions like this you know you're not out of it.
'The key was 15 where I drove it to nine feet and holed the putt for an eagle but even when you're two or three shots ahead going into the final few downwind holes, all sorts of things go through your head.
'It doesn't get better than this.
'The win in 2018 was a playoff, and I think that experience helped over the last couple of holes today. I'm 61 now, and you don't get many chances to do this, so you have to take them when they come along.
'I last played Arbroath in the Scottish Boys in 1979. It's been a great week up here and a real test.'
2021 champion Stephen Jensen also put in a strong performance this week as he looked to defend his title. An excellent final round of 68, the lowest of the day, saw him finish in a tie for third, four shots behind Clark.
A full list of scores from the 2022 Scottish Senior Men's Open is available here.