Murrayshall Provides Grandstand Finish at Medal Final Central
Posted on 24/05/2021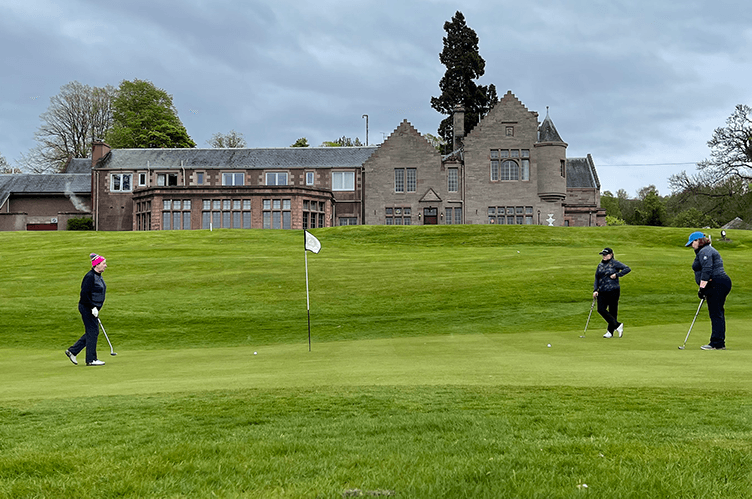 Shaeen Ahmad produced a grandstand finish to clinch a narrow victory in the women's event at the Scottish Medal Finals Central 1 event at a wet Murrayshall Country House Hotel & Golf Club in Perthshire.
---
Live Coverage #SGMedalFinal
---
The 18-handicapper from Balmore Golf Club was level par when she stepped onto the tee at the 127-yard par-3 18th hole but holed out in two for a net one and a two under par net round of 69.
On a day marred by increasingly inclement weather that was enough to give Ahmad a single shot win over Tricia Chillas (Stirling) and Shona Cunningham (Mortonhall).
All three players qualify for the Scottish Medal Finals Grand Final at The Duke's, St Andrews, where they will be joined by Janette Bowman (Auchterarder), Carolyn Smith (Dunblane New) and Kathy McIlwaine who shared fourth place with two over par net rounds of 73.
"It was a great way to finish," she said. "My tee shot struck the pin and bounced about 20-feet away but I managed to hole my putt from there.
"I didn't actually see my tee shot land because I was bending down to pick up my tee but my playing partners told me what had happened. I wasn't even sure what club to hit. I didn't think I could make it with a 5-iron so I teed the ball up and hit my rescue (club) instead.
"I loved the course and was pleased with the way I played," she added. "I won a similar Scottish Golf event at East Renfrewshire a couple of years and then finished about sixth in the final so it would nice to do even better this time."
The men's event proved to be even more keenly contested with 21-handicap Lumphanan member Bill Liversidge pipping Kemnay's Fraser Laird on a card countback after both players had posted one over par net scores of 74. One handicapper Laird had the consolation of returning a low scratch round of the day with a 75.
"I'm astonished," said 73-year-old Liversidge. "Absolutely astonished. I didn't play well. I'd never played the course before and I missed quite a few putts. It wasn't until a friend called me later that I found out I'd won.
"It hasn't really sunk in yet but I'm looking forward to playing at The Duke's," he added. That will be a first for me as well. I'm sure it will be a bit different to our little nine-holer here (at Lumphanan)."
The other four men who progressed to the Grand Final at the Home of Golf were Mark Scott (Strathmore), Les Cook (Stirling), John Carberry (Alloa) and Gavin Key from the host club who all carded two over par net scores of 75.
The Scottish Medal Finals Central 1 event was the third of six regional qualifiers for the Grand Final of this hugely popular club event.
Next up is the Medal Final North event at Pitlochry next Monday (31 May). There is then a short break before Eyemouth stages the Medal Finals South event on Friday July 2 and Balbirnie Park hosts the Central 2 qualifier on Friday 23 July.
Altogether 36 women and the same number of men from all over Scotland will compete in the Grand Final at The Duke's on Sunday 15 August.