Mukherjee Triumphs at 2022 Scottish Men's Amateur Championship
Posted on 30/07/2022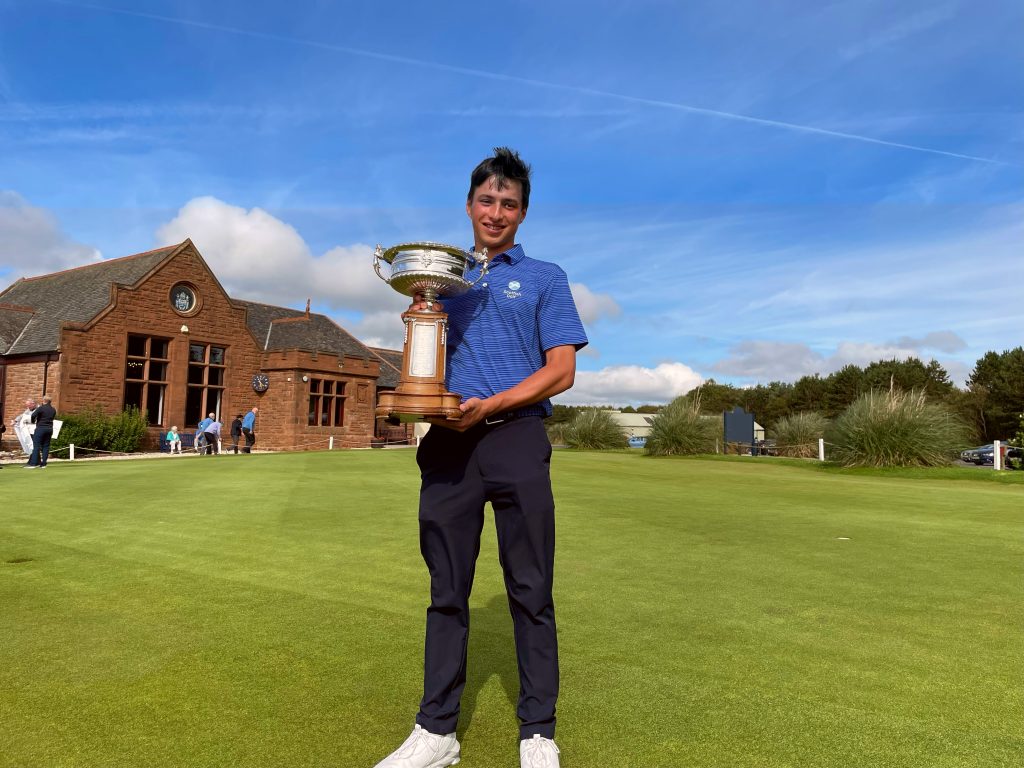 16-year-old Oliver Mukherjee was crowned 2022 Scottish Men's Amateur champion at Gailes Links on the Ayrshire coast this afternoon, beating Gregor Tait 1up in this afternoon's final.
In the morning's semi-finals, Gullane's Mukherjee was a 3&2 winner over Castle Park's Connor Wilson, while Tait beat Lewis Irvine by the same score, carding nine threes over the sixteen holes.
For a long time in the final, it looked like it wouldn't be Mukherjee's day, finding himself three down after ten holes and with a mountain to climb.
However, pars on eleven and twelve saw the gap reduced to one, before both players birdied the thirteenth. Mukherjee then made it back-to-back birdies on the par five fourteenth. Tait's putt for birdie slipped by the hole meaning the match was level heading into the final four.
On the par-three fifteenth, with both players having missed the green, Mukherjee made a solid par that Tait was unable to match to take the lead for the first time in the final.
With sixteen and seventeen halved in pars, Mukherjee headed down the last with the advantage.
A long lag putt from Mukherjee saw the par conceded, leaving Tait a ten-foot birdie putt to take the match to extra holes. However, he was unable to convert meaning the youngster from Gullane was crowned this year's winner.
Speaking to Scottish Golf, a delighted Mukherjee said, 'It feels great, it was a very long week. I didn't like my chances at the turn today but got my energy back and with some help from my caddie I was able to turn it round.
'I was pretty tired from quite a long week; I was just trying to stay in it. I think in four of my games I was down this week so I knew if I could win a couple of holes it would put some pressure on Gregor. I hit some good shots and holed a good putt on fourteen.
'Eighteen had been quite a kind hole for me this week, I hit a good iron shot and a good lag putt to get it done.
'The courses were in great nick. I really enjoyed Western, it's a world class venue with a great reputation and Glasgow was really good too. I'm looking forward to Home Internationals next week, but I need some sleep first!'
Scoring from the matchplay stages of the 2022 Scottish Men's Amateur Championship can be found here.