Mukherjee Makes His Mark
Posted on 09/08/2021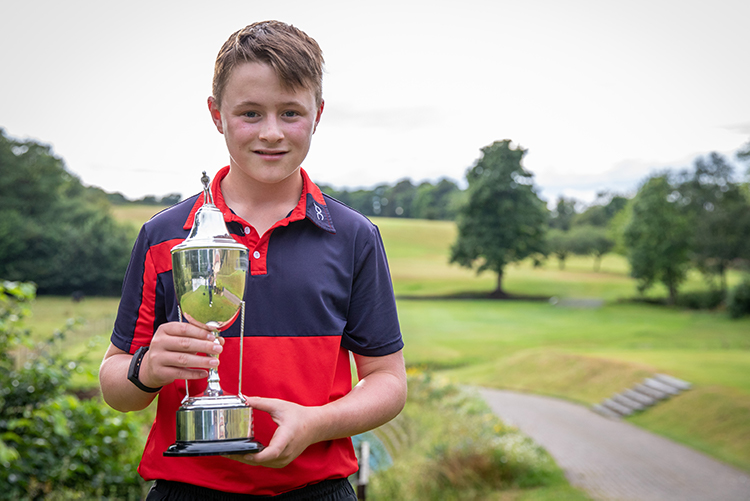 Gullane's Cameron Mukherjee became the first Scot to lift the trophy since 2015 when he won the Scottish Boys' Under-14 Open Championship at Kirkcaldy.
---
Live Coverage: @SGBoysU14
---
Despite torrential rain, which caused a 3 hour delay in play on the morning of the second round, Mukherjee added a 70 to his opening 69 to clinch an impressive two shot victory on three under par 139.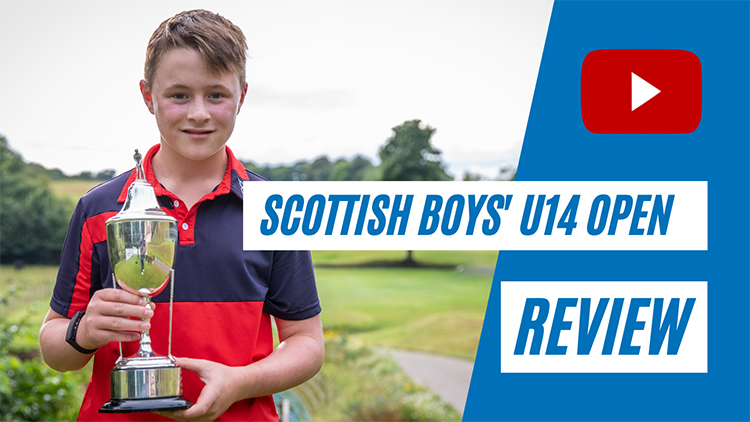 The Scot claimed the third birdie of his round on the ninth to go out in one under par 34 and then came home with nine successive pars to follow in the footsteps of Pitreavie's Connor McKinney, the last Scot to claim the title, at Glenbervie six years ago.
"It feels amazing to win," said Mukherjee, who attends Loretto School, sponsors of the Scottish Boys' Under-14 Championship, and whose older brothers Oliver and Samuel are playing in this week's R&A Boys' Amateur Championship at Royal Cinque Ports.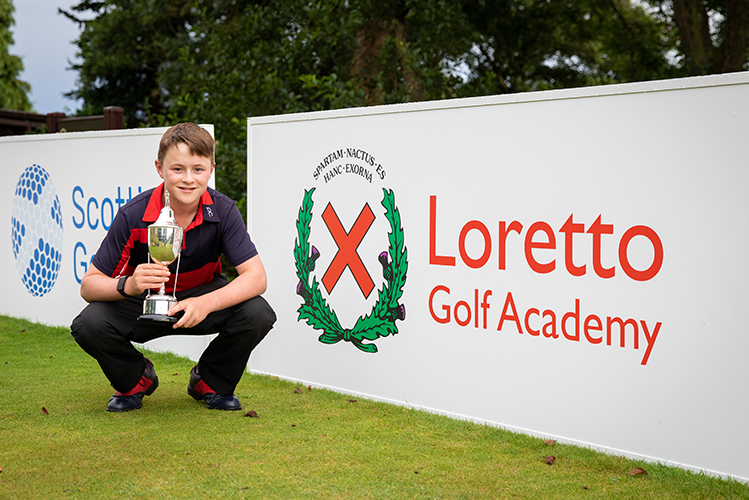 "I didn't know where I was until I checked the leaderboard at 18. I was just playing my own game, playing against the course.
"The delay probably came at a good time for me. I hadn't teed off, so it didn't cause me too many problems. But I still had to stretch a bit before I teed off because we'd been sitting in the car for a while.
"My driving has been great the last two days and I holed a lot of clutch putts from about six feet today which is always good," he added. "Winning this is right up there. It's probably at the top. It's the first time I've played Kirkcaldy. It's a great course. There are some tough greens to hit into and some tight fairways. I like it a lot."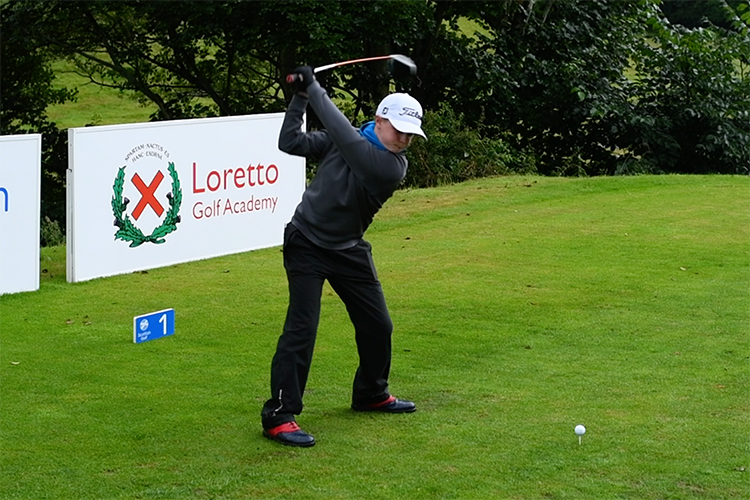 "It's absolutely incredible," agreed Mukherjee's mother, Angie". "I'm really, really pleased for him, he's worked so hard. He's been working on being a bit more steely and I've never seen him so calm, collected and focussed as he was today. It's amazing, he was in the zone the whole time. I'm really proud of him.
"He really wanted to win this trophy," she added. "He did quite well in the Reid Trophy (English Boys' Under 14 Championship) last week. He finished 7th there and wanted to try to build on that."
Mukherjee's nearest challenger was Englishman Edward Wade (below), from Harpenden Common in Hertfordshire, who carded rounds of 69 and 72 to finish on one under par under par 139. He was right in the mix when he birdied the 16th but bogeyed the last to give Mukherjee a bit of breathing space.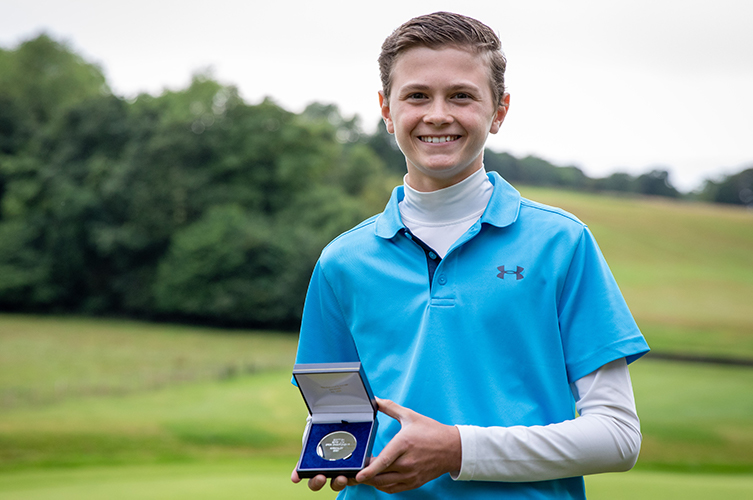 It was also a great couple of days for Mukherjee's Gullane club-mate Kiron Gribble who carded rounds of 70 and 73 to finish third on one over par 143 and for another Scot, Finlay Galloway, from the St Andrews Golf Club, who fired two successive rounds of 72 to share fourth place alongside Englishman Aaron Mohun, from Delamere Forest.
Scottish Golf Boys Under-12 Open Championship
The Under-12 title was won by Englishman George Cooper, from Notts Golf Club (Hollinwell) who carded rounds of 73 and 79 to complete a three shot victory over Scotland's Aidan Lawson. Lawson, from the Bruntsfield Links Golf Society, opened with an 82 but bounced back strongly by scoring a 73 in his second round.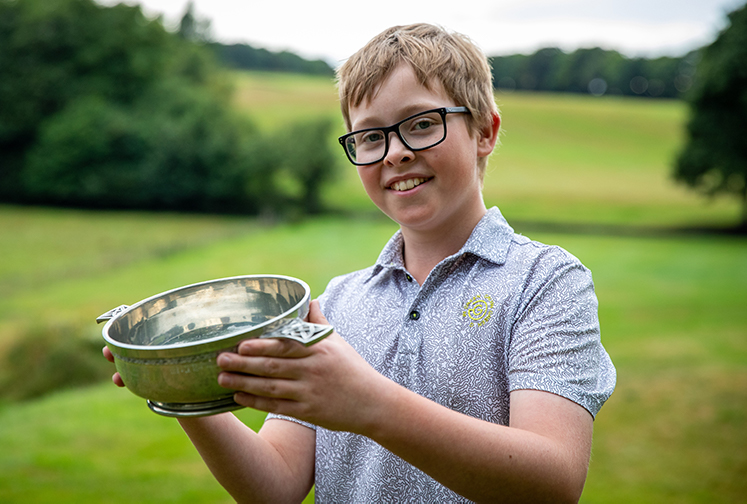 "It feels really good because I've been competing against people I've not competed against before," said Cooper. "I feel as if I have played very well this week, especially today in the weather conditions we had. It was quite difficult, but I got through it in the end.
"The golf course was just brilliant," he added. "It's been a great couple of days."