Moffat Marches on in Match Play at Aberdour
Posted on 24/06/2021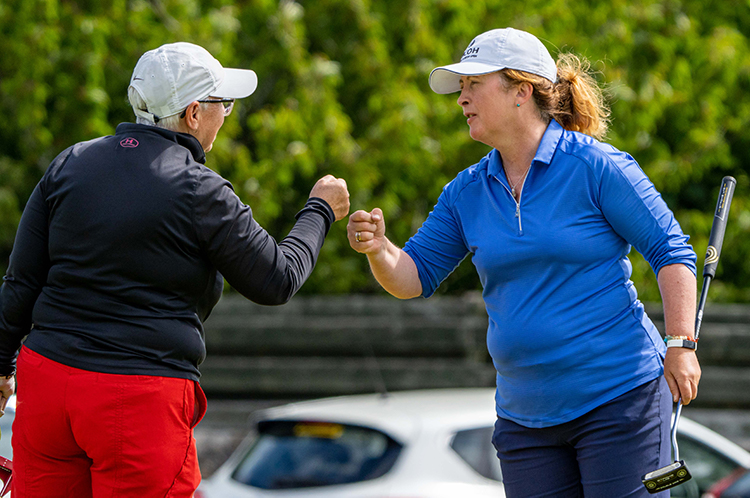 Elaine Moffat remains on course to claim the Scottish Senior Women's Match Play title for a third time in a row but only after surviving two tough matches on the opening day of this year's Championship at Aberdour.
The senior international from the St Regulus club in St Andrews beat Lochend's Mandy McBain 3&2 in the first round and then in the afternoon defeated fellow Fife senior county player Lorna McKinlay 2 & 1 although on both occasions she had to come from behind to make it into the next round.
---
Live Coverage: #SGSeniorWomensOpen
---
The afternoon round against McKinlay proved particularly challenging. The two players were all square at the turn before Moffat won both 10th and the 13th. With the rain starting to fall McKinlay got one back at the 16th before the defending champion sealed victory on the 17th hole.
I found it difficult and I don't mind admitting that," said Moffat. "Both Mandy and Lorna played good, solid golf and made me work really hard. I was a wee bit erratic first thing this morning but managed to get it together and stick in after that.
"This afternoon I played my friend Lorna which is always really difficult. She's my foursomes buddy from Fife. We know each other's games so well and it was an absolutely cracking match. I'm just happy to get through."
Moffat's next opponent in her bid to regain the title she won at Prestwick St Nicholas in 2018 and again at Edzell in 2019 is another Fifer in the shape of Iona McKean from Ladybank. McKean had to go to the 18th hole to beat Anne Hanson from Turnhouse by one hole in the opening round before reaching the last four with a more comfortable 4 & 3 victory over Dunblane New's Claire Capocci.
In the other half of the draw, Mortonhall's Karen Ferguson-Snedden showed just why she finished second behind Moffat in the Stroke Play Championship earlier in the week by beating Liz Keohone from Loudoun Gowf by 6&5 but then needed all her resolve to beat Barberton's Karen Marshall in a tight quarter-final match in which only three holes changed hands before the number two seed won the 17th hole to seal a 2 & 1 victory.
Arguably the most impressive performance of the day came from East Renfrewshire's Gillian Kyle who needed just 26 holes to beat Harburn's Jennifer Bryans 5 & 4 and Baberton's Wendy Nicholson 8 & 6 to move on to a semi-final clash against Ferguson-Snedden. That means the number two and three seeds will face each other for a place in the final.
"I'm sharing a house with Elaine so we're hoping to face each other in the final. That's the dream anyway but there's a lot to do to get there," said Kyle.
"I live in Glasgow so we've had restrictions. I've had to self-isolate because a friend had tested positive for Covid. I missed all my County matches and was feeling a bit sorry for myself so I'm very pleased to get this far.
"It's great to get back to competing after such a long break," she added. "You just feel so grateful to be able to get back playing at your club but this is another level and you really have to concentrate."
The semi-finals of the concurrent net competition will also be played at Aberdour in the morning. Jaci Moriarty from Comiston Ladies will face Gullane's Sarah Ledingham in the first match on the course with the winner of that contest playing either Wakefield's Elaine MacGregor or Turnhouse's Morag Wardrop in the final.