Melanoma Fund Aims to Tackle Skin Cancer Awareness in Golf
Posted on 11/05/2022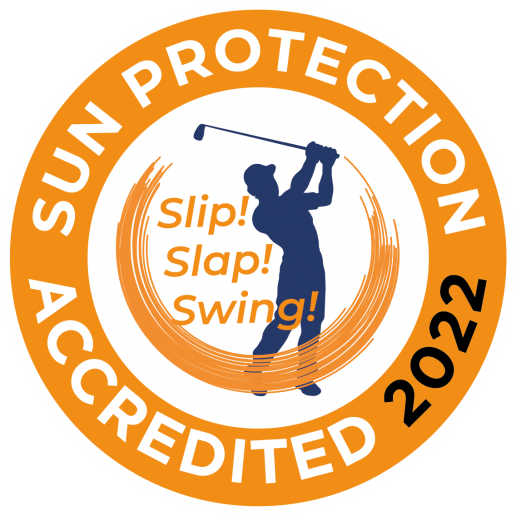 The Slip! Slap! Swing! sun protection campaign for golf has returned in 2020 with as the Melanoma Fund aims to support 500 golf clubs across the UK to become "Sun Protection Accredited."
Watch out, watch out… Sunburn's about!
Nobody wants sunburn; however, it can catch you out, especially when your focused on your swing!
Although annoying, unsightly, and painful, the danger of sunburn goes far beyond the redness and discomfort. It accelerates skin ageing and is a leading cause of skin cancer. The best way to avoid it is to be mindful, that during summer, sunburn is lurking, but is easily dealt with by using sun protection.
Sunburn's about!
To bring this message home, the Melanoma Fund; the charity behind the Slip! Slap! Swing! campaign has created 'SUNBURN', a character who will be appearing at sports events across the UK from June onwards. Providing a light-hearted approach to an important message, the mascot has been designed to grab attention, actively engage, and remind everyone to protect their skin.
Get involved
The team will be giving out free sunscreen to all those pictured with SUNBURN (instead of the real thing!), helping spread awareness, at the right time and place, targeting those who are participating, spectating, or working at the event.
What is sunburn?
Sunburn is a visible reaction of the skin's exposure to the sun's UV rays. The signs of a sunburn may not appear for a few hours and are typically at worse, 24 to 36 hours after sun exposure. The redness and soreness are a sign your body is repairing the damaged skin. How long symptoms last depends on its severity of the sunburn.
Mild: Redness and some pain. This last three to five days.
Moderate: Red, swollen skin, and hot to the touch. This can take about a week to heal completely.
Severe: Painful blistering or very red skin. This can take up to two weeks to fully recover.
Three is the magic number
UV rays cannot be seen or felt, and so we can all be caught out, especially on overcast days. To be sure, use sun protection when the UV Index is 3 or over. You can check this on your phone and act accordingly.
Remember, sunburn ain't no laughing matter! Even a single incidence can increase your risk for developing skin cancer, especially in younger people, so do the right thing, protect skin with clothing and SPF30+ sunscreen on all exposed skin, before you start any outdoor activity and reapply frequently. To become accredited to Slip! Slap! Swing! visit www.melanoma-fund.co.uk