Lifelong Memories on Offer at Coronation Foursomes
Posted on 12/03/2020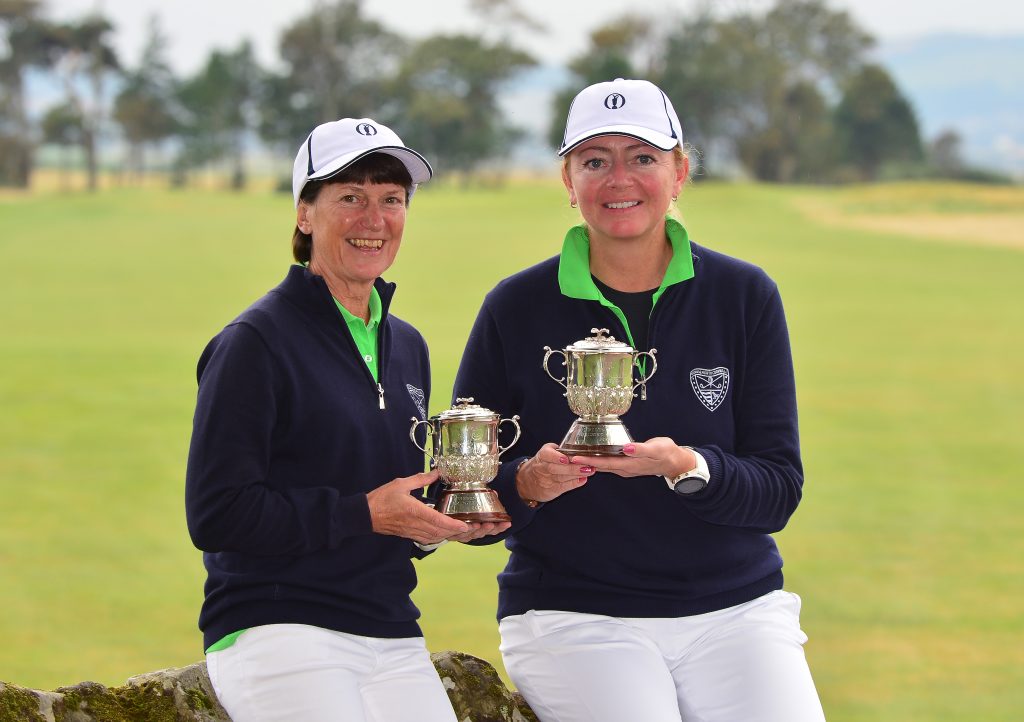 Women and girls from clubs across Great Britain and Ireland are being encouraged to savour one of the "best experiences" in amateur golf by teeing up in the 2020 Coronation Foursomes.
Friendly and fast, the unique team competition is the largest domestic event of its kind, attracting almost 22,000 golfers from over 1,100 clubs in 2019 – where winning is just part of the fun.
Mothers and daughters, friends and family can enjoy the experience of playing in the pairs event this year – all for just £2 per player.
The Bude & North Cornwall pair of Collette Burgess and Hana Dabrowski claimed title glory at the Home of Golf in St Andrews last September – including a dream Pro-Am opportunity at this year's AIG Women's British Open at Royal Troon – and have basked in the glory ever since.
"It's the best experience we've ever had, it was absolutely awesome," said Hana. "There is not a day since we left St Andrews that we haven't thought about the Coronation Foursomes! It was a fantastic time with great memories.
"The experience was incredible. I mean, I'm still living off it and I'll probably be living off it for the rest of my life!"
Collette, who emerged victorious from her 17th playing of the Coronation Foursomes, added, "It's a fabulous competition, really well-run and it's a great format. It's a competition I've always entered each year as I love playing in pairs."
As part of The R&A's continuing drive to encourage more women and girls into playing golf, local qualifying competitions can be organised by golf clubs in Great Britain and Ireland over the coming months, played over 18 holes of foursomes stableford.
The best 100 scores based on nett differential will then qualify for Area Finals held at 16 venues, before the top 16 teams book their trip to St Andrews for the Grand Final played over the Eden Course on Monday 21 September.
Collette, a 10-handicapper, continued, "I've been to a few Area Finals before, but I didn't think I could ever win the Coronation Foursomes, as it's so big a national event.
"Everybody has been full of praise for Hana and myself. Every time we go into our club we see somebody different who says 'congratulations, that was amazing'."
Hana, who plays off 12, added, "We've been local celebrities! Our picture is beautifully framed in the clubhouse, so everybody who comes in sees it. It's on the proper 'wall of fame' where all the trophies are.
"We also enjoyed a great celebration in the clubhouse. Even now, people we meet ask us both about the experience of the Coronation Foursomes, so we keep telling them! Not that long ago we were spotted in a golf magazine, so that will be framed too!"
Established in 1953 to celebrate the Queen's Coronation, the Coronation Foursomes is open to all members of affiliated golf clubs in Great Britain and Ireland who hold a current CONGU handicap of 36 or under. Indeed, 86% of players who competed in The R&A Coronation Foursomes over the last two years had a handicap of 13 or over, illustrating the wide mix of players.
This year's 32 finalists will again stay at the prestigious Old Course Hotel Golf Resort & Spa and have the chance to book a place in the Pro-Am for the 2021 AIG Women's British Open at Royal Porthcawl.
Hana, who hails from the Czech Republic, is certainly looking forward to rubbing shoulders with the stars of the sport at Royal Troon this summer.
"I can't wait for it in August," she admitted. "I'm a little bit worried as I don't want to embarrass myself, so we will have to work on our games and prepare. It's something huge to look forward to.
"It would be nice to meet one of my favourite players, Georgia Hall, while I also have two favourites with Czech origin, Jessica and Nelly Korda. They grew up in America, but if I meet them it would be a big thing!"
Qualifying rounds for the 2020 Coronation Foursomes can be held up until the Sunday 21 June closing date and entries submitted online via randa.org
For more information, please visit: www.randa.org/championships/coronationfoursomes