Celebrating the life of Joyce Cooper
Posted on 26/05/2022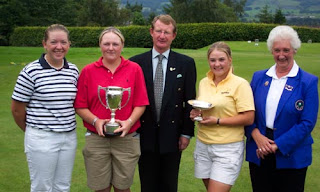 Scottish Golf were saddened to hear about the passing of former SGLA chairman and president, Joyce Cooper.
Joyce was Chair of the SGLA from 1985 to 1987, and President of the SGLA from 2000 to 2003. As Chair of the LGU (1995-96) she travelled with a number of Scottish and British Teams, and was also Chair of Selectors for LGU for a time.
She captained the Ayrshire Ladies for two years from 1979, and was subsequently appointed Ayrshire Ladies President from 1981-83.
She was made an honorary member of Troon Ladies Golf Club in 1996. She was a very well-known and well-respected figure within Scottish Ladies golf and will be sadly missed by all who knew her.
She died peacefully at the Ayrshire Hospice on Monday 16 May 2022. A funeral service will be held at Portland Church, Troon at 12.45pm on Tuesday 31 May 2022, following on to Ardrossan Cemetery. Donations can be made in Joyce's memory to the Ayrshire Hospice.
From everyone at Scottish Golf, we would like to extend our condolences to Joyce's family, friends, and those in the golfing community who knew her.