Two Scottish Teams Win On Day One Of Home Internationals
Posted on 04/08/2021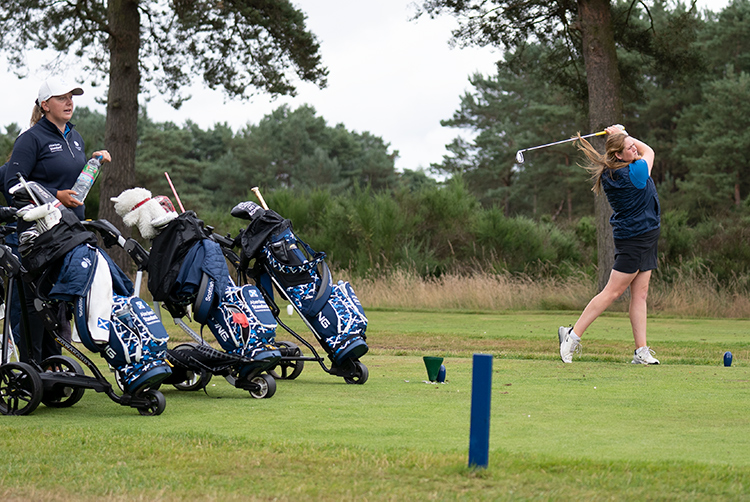 Scotland had mixed success on the opening day of the combined Home Internationals played over the Hotchkin and Bracken courses at Woodhall Spa in Lincolnshire.
The Scottish Junior and Senior teams both won the first of their round robin matches, but the Women's team lost to Ireland and will now almost certainly have to beat defending champions England in the second round if they are to have any chance of repeating their most recent victory in the competition at Ballybunion in Northern Ireland in 2018.
This year due to Covid regulations both the boys and the girls, and the senior men and women, are playing together as one team and it proved to be a recipe for success for both combined squads.
---
Boys & Girls, Day 1: Scotland 14½ v Wales 6½
The combined Scottish boys' and girls' team raced into a commanding 5 ½ – 1 ½ lead over Wales at lunch after foursomes victories from Carmen Griffiths and Grace Crawford, Megan Docherty and Rachel Foster, Calum Scott and Gregor Graham (below), Daniel Bullen and Ross Laird and Cameron Adam and Connor Graham.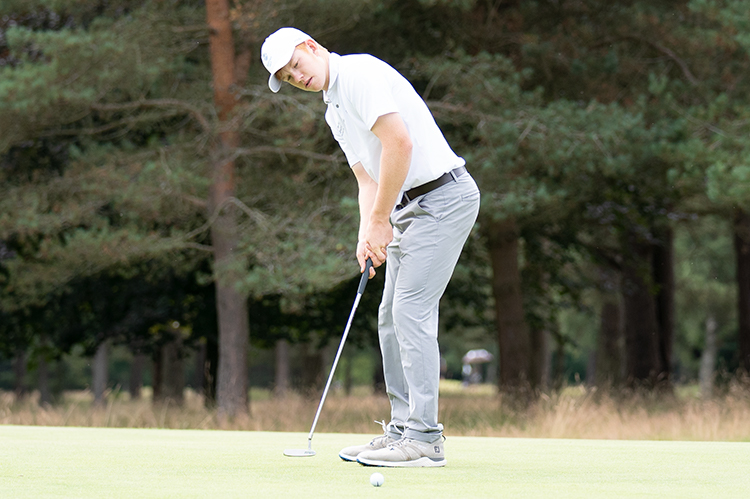 Ruben Lindsay and Scottish Boys Champion Archie Finnie halved their match, with the one loss registered when Robyn Fowlie and Katie Graham lost 5 & 4 to Darcey Harry and Gracie Mayo.
Fowlie quickly made amends for her earlier defeat when she beat Mayo 5 & 4 in the singles and further victories from Foster, Crawford, Lindsay, Scott, Adam, Laird and Connor Graham plus halves from Griffiths and Gregor Graham helped Scotland secure an impressive 14 ½ to 6 ½ win.
The Scots now play Ireland who lost 19-2 to England in the other first round contest.
Boys' & Girls' Home Internationals Live Scoring
---
Senior Men & Women Day 1: Scotland 7 v Wales 5
The seniors match between Scotland and Wales was tied 2-2 after an evenly-balanced foursomes series in the morning.
The first two foursomes matches involving Karen Ferguson-Snedden and Gillian Kyle and Elaine Moffat and Karen Marshall were both halved. Paul Moultrie and Stewart Henderson secured Scotland's first full point with a 4 & 3 victory over Nick Grimmitt and Adrian Bragg before Philip Sutton and Andrew Williams evened things up by beating Ronnie Clark and Derek Paton by the same margin.
At that stage the match appeared to be too close to call. Wales briefly took the lead when Ferguson-Snedden and Moffat lost the first two singles but Scotland turned things round when Kyle, Marshall, Moultrie and Paton all won and Henderson and Clark halved their matches.
Scotland's 7-5 victory means they will now play Ireland who lost 8-4 to England on the opening day.
Senior Men & Women Home Internationals Live Scoring
---
Women Day 1: Scotland 3½ v Ireland 5½
The one disappointment on the opening day for Scotland came in the women's match in which Scotland lost to Ireland after being level at lunch.
Hazel MacGarvie and Shannon McWilliam got the Scots off to the best possible start in the foursomes when they secured a 3 & 1 victory over Lauren Walsh and Sara Byrne. Chloe Goadby and Tara Mactaggart then halved their foursome against Aine Donegan and Anna Foster before Annabel Wilson and Beth Coulter evened things up with a one hole win over Hannah Darling (below) and Lorna McClymont.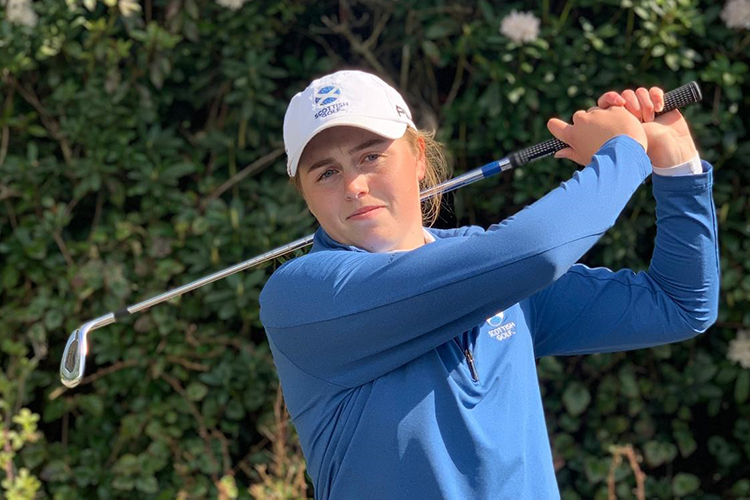 It was all to play for in the singles and British champion Louise Duncan did put another point on the board for Scotland when she beat Foster 2 & 1 in the top singles, as did Curtis Cup hopeful Darling, but defeats for MacGarvie, McWilliam, Mactaggart and Goadby saw the contest end 5½ – 3½ in favour of the Irish.
Scotland now play England, who won all six singles while romping to an 8-1 victory over Wales.
Women's Home Internationals Live Scoring
---
Follow the latest news tomorrow by downloading the Scottish Golf App