Harper Macleod to Offer Club Support on Next Zoom Call
Posted on 20/07/2020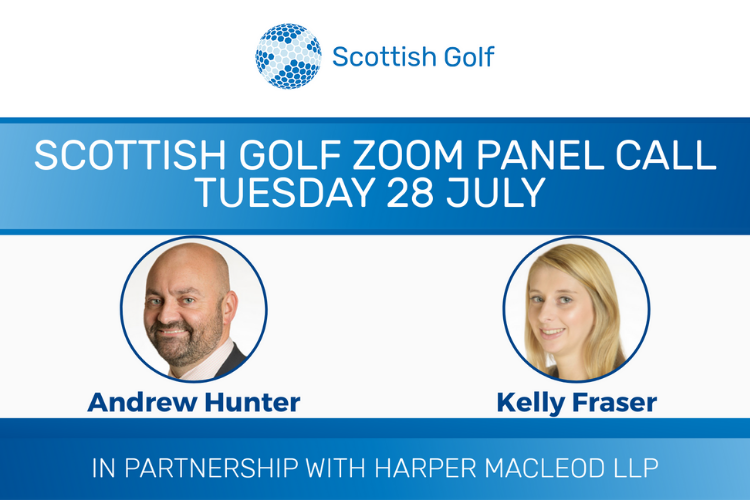 Scottish Golf is pleased to confirm details of its next Zoom Panel Call in partnership with Harper Macleod LLP. Hosted by Scottish Golf's Club Business Manager, Iain Evans, the call will take place at 3pm on Tuesday 28 July and last 30 minutes.
The call will support all affiliated golf clubs by providing them with an opportunity to hear from and pose questions to, an expert panel from Harper Macleod, Scotland's first recognised sports law specialist team.
On the call, Andrew Hunter and Kelly Fraser from Harper Macleod will provide expert insight on several topics and challenges facing clubs including the hosting of General Meetings during COVID-19, incorporation, GDPR and much more.
Registration for this week's Zoom Panel Call is now available here and will close at 5pm on Monday 27 July.
Meet this week's Panel
Andrew Hunter – Partner
Andrew is a Chambers UK top-ranked "Leader in the Field" in Licensing and is also a Legal 500 "Recommended Lawyer" in Licensing. Andrew is a Law Society of Scotland Accredited Specialist in Liquor Licensing Law and is a member of the Law Society Licensing Sub-Committee. Andrew specialises in providing advice on licensing law, including alcohol, civic government and gaming licensing. Andrew also specialises in providing debt recovery and insolvency advice, including payment actions, property recovery, contract disputes and non-monetary remedies such as interdict for trustees, financial institutions and private clients. Examples of experience include:
Acted for a golf centre in respect of a transfer of an alcohol licence to a new holder in circumstances where the previous licence holder, a LLP, had been dissolved.
Principal advisor in Scotland in all licensing, gambling and civic government matters to Belhaven Brewery Company Limited (part of Greene King Group), Lidl UK GmbH, BP Oil UK Limited, Certas Energy and William Hill Organization Limited.
Advised the Organising Committee to the Glasgow 2014 Commonwealth Games in respect of all licensing matters relevant to the Commonwealth Games, including street trading permissions for vendors, public entertainment licences for events, safety certificates for stadia, alcohol licensing for provision to spectators and indoor sports entertainment licences.
Acted for a number of private members golf clubs at licensing boards across Scotland, including Kilmarnock (Barassie) GC, Largs Routenburn and Haggs Castle GC.
In a personal capacity, Andrew was a Captain of The Williamwood Golf Club in the southside of Glasgow in 2014 and served on Committee for three years. He has been a Member of WWGC for 30 years and is also currently a Country Member of Moray Golf Club
Kelly Fraser – Senior Associate
Kelly Fraser manages and is the principal contact for all referrals the sportscotland Legal Expert Resource Helpline on behalf of Harper Macleod, working closely with sportscotland and many sports governing bodies (SGBs). Kelly's principal areas of expertise are governance, regulatory and data use and she regularly delivers training on governance and data protection matters, particularly in relation to preparations for the changes introduced by the GDPR and legal structures to sportscotland and SGBs.
Kelly has advised a number of golf clubs on constitutional matters in relation to their governance documentation and also is a legal content writer for Harper Macleod's sportscotland SGB and club hubs online. This has included preparing content in relation to the current Coronavirus pandemic, particularly in relation to holding general meetings.
Kelly was a volunteer at the European Championships 2018 and a member of Snowsport Scotland's governance committee. She also acts as a clerk to the Board of Scottish Swimming, taking the minutes at board meetings and general meetings, and is a member of Scottish Swimming's complaints and appeals panel.
To find out more about this week's Panelists and the work Harper Macleod do, please click here.