Looking to get more active and meet new people?
Golf for Health is a relaxed programme, giving you the opportunity to try out golf for free, in a friendly environment.
Golf for Health is being provided by a select number of clubs for NHS Fife patients who haven't played before or haven't played for quite some time to help them get more active.
No need to wear anything fancy and all equipment will provided.
---
What does the programme include?
Golf for Health will vary slightly from club to club but will generally involve:
First – A taster session to welcome you to the facility and give you the opportunity to get to know the coaches and everyone else in the group
Then – Small group coaching – eight weekly sessions led by a PGA Pro/coaching staff
Who is this for?
If you were advised/referred to the Golf for Health programme through your GP practice or community link worker.
If you are an adult (18yr+) who is not physically active for a total of 150 minutes per week – Physical activity can include walking, cycling, gardening, housework and exercise or sport. Anything that gets the heart rate or breathing rate up a little.
If you are a new to golf or haven't played for quite some time.
---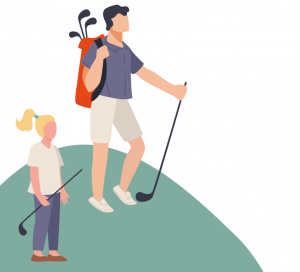 Click below to register for one of the clubs running Golf for Health
---
You might also be interested in
Golf with a buddy – If you're a little nervous or need a bit support to take part, a buddy could help with this. Volunteer buddies will be on hand to answer any questions and ease you into the programme.
Social events – Throughout the programme you will have the opportunity to attend social events at the club, these might involve tea and coffee after the session or additional events to celebrate your progress.
---
Things to note
Golf for Health is completely free, no need for fancy clothes or equipment, everything you need to take part will be provided.
If you enjoy the programme and would like to continue playing golf, please speak to the participating clubs about further activities and coaching opportunities, and follow-on membership or access offers. Also why not visit the Fife Golf Trust website for information on courses, visitor rates and season tickets – https://fifegolftrust.co.uk/
---
More Info on Participating Clubs – Visit Their Website
Dunnikier Park Golf Club – https://www.dunnikierparkgolfclub.com/
Ladybank Golf Club – https://ladybankgolf.co.uk/
Elmwood Golf – https://www.elmwoodgolf.co.uk/
Dunfermline Golf Club – https://www.dunfermlinegolfclub.com/
Cluny Clays – https://www.clunyactivities.co.uk/golf/
St Andrews Links Trust – https://www.standrews.com/
Golf for Health is part of EAGLE II project founded by University of St Andrews in partnership with The R&A, and in collaboration with: NHS Fife practices, Scottish Golf, Fife Golf Trust, European Tour & Ladies European Tour, PGA Scotland, Movement for Health.