Easton Edges Ahead At Scottish Men's Open Championship
Posted on 29/05/2021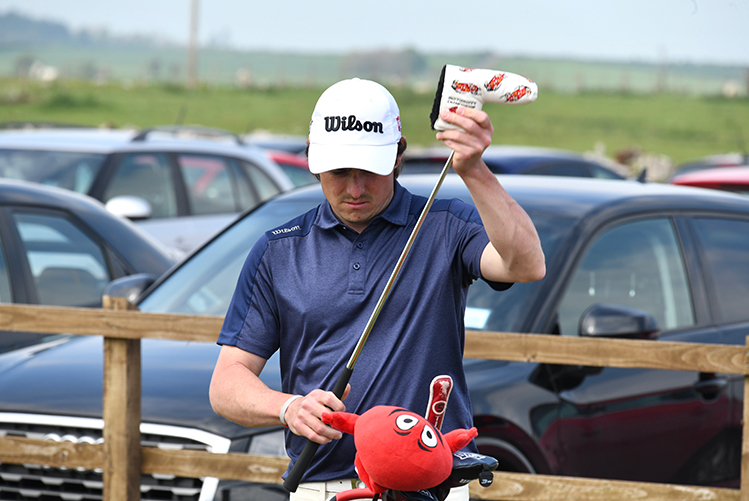 Scotland's Stuart Easton holds a slender one shot lead heading into the final day of the Scottish Men's Open Championship at Southerness.
The Scottish international from Irvine admitted he was at odds with his game for much of his second round but still added a three under par 66 to his opening 63 to climb one place up to the top of the leaderboard on nine par 129.
His nearest rival is English elite squad member Callan Barrow from Royal Lytham & St Annes who was once in the same youth team at Manchester United as Marcus Rashford. Barrow sits one off the pace after carding a two under par 67 to post an eight under par aggregate of 130.
Easton and Barrow have a lot of company on what is a congested international leaderboard. English first round leader James Wilson could not repeat his heroics of the previous day when he fired a course record 62 but his level par 69 left him alone in third place on 131.
Welshman Matt Roberts from Royal Porthcawl equalled the best round of the day with a 64 to move up to fourth on five under par 132 while 2020 Irish Close champion Hugh Foley from Royal Dublin carded a 69 to share fifth place with Scotsmen Jack Broun (Turnberry) and Connor Wilson (Castle Park), their Australian-based compatriot Josh Greer (Joonalup) and England's Haider Hussain on four under par 133.
Easton got his round off to a bright start when he birdied the 393-yard opening hole for the second day in a row. He also birdied the fifth, the ninth and the 11th but in between had to do more than his share of scrambling to do before producing a fast finish with birdies on the 16th and the 18th.
Remarkably he has not dropped a single shot to par over the opening two rounds on what is widely recognised as one of Scotland's finest links courses although he admitted his second round card did not give a true picture of how he had played.
"Today was a very different day," he said. "The first 12 or 13 holes were very scrappy. I missed a few greens and had to get up and down for par a lot which I wasn't very happy about. But the last five holes I kind of dialled in a hit some nice shots and make a couple of birdies.
"In a lot of ways today was a better day than yesterday," he added. "The fact I managed to scramble well and keep bogeys off the card is very pleasing. Today I felt like there wasn't too much difference in the course until you got onto the greens. They were a bit drier and there was a lot more pace to them. You had to be a bit more cautious.
"Tomorrow is two rounds so it's going to be a long day. You can't start thinking ahead of yourself. It's 36 challenges and you've got to tick off each challenge as it comes and see where you land at the end of the day."
Barrow lost in the final of last year's English Amateur to his great friend Jack Cope but now he can have high hopes of going one better after an up-and-down round in which he fired four birdies but also dropped two shots.
The Royal Lytham & St Annes member freely admitted his second round was a bit of a struggle.
"I'll take it," was how he described his performance.
"The conditions were better than yesterday but I didn't play quite so solid. I missed a couple of short ones but holed a couple of long ones so that evened it out a bit. Other than that it was pretty average.
"I've just got to stick to my game plan and keep finding the fairways. The course is playing really nice but the greens are firming up. It's getting pretty hard to stop the ball so finding the fairways is key.
I'll probably have some lunch and get some food in me. I'll hit some balls on the range after that to see if I can tighten the dispersion a bit and then go and watch the Champions League final."
Wilson began the second round lead with a single shot lead before promptly dropping a shot on the second hole. He got it back with a birdie on the 461-yard par four third and then went into red numbers with a three on the 390-yard par four 11th before two bogeys and a birdie on his closing four holes saw him finish back where he started on seven under par.
"I got off to a tough start and actually didn't play great", said the Close House member. "I just sort of plodded along and got it round. My putting was half decent again. I made a few silly mistakes but all in all it's pretty good.
"It's a touch more windy and a bit firmer than yesterday. The wind seems to be swirling a bit more so it's quite tricky."
A total of 44 players made the cut at plus two over better and will contest the final two rounds tomorrow.