Duncan bids for a Double as Helen Holm Returns to Royal Troon
Posted on 24/06/2021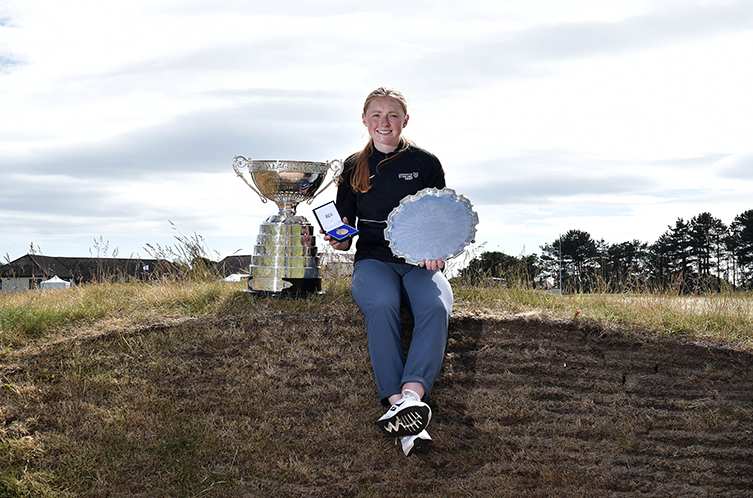 Louise Duncan will travel a few miles down the west coast to Troon next week bidding to complete an international double at the Helen Holm Scottish Women's Open Championship.
The 21-year-old from West Kilbride won the Women's Amateur Championship at Kilmarnock (Barassie) a couple of weeks ago and is now seeking to claim another piece of silverware at a championship which this year, due to its earlier postponement because of Covid restrictions, will be contested over three rounds at Royal Troon Portland Course rather than the traditional two rounds at Royal Troon Portland Course and one over Royal Troon Old Course.
---
Live Coverage: #SGHelenHolm
---
"I'm really looking forward to getting going again and to see where my game's at after my win at Barassie," said the new British champion.
"I never really expected to win the Amateur ever in my life so I'm still buzzing about it. I couldn't be any happier and just excited to see what the future brings.
"Royal Troon Portland is a good course," she added. "It's a bit gutting we can't play the final round at Royal Troon Old Course this year but that's the way things are at the moment.
"We're lucky to be playing this at all under the circumstances and I'm sure it will be great fun."
Stirling University student Duncan heads strong home contingent who will all be bidding to become the first Scot to claim the title since Heather Stirling back in 2002.
That group is headed by Stirling graduate Chloe Goadby who the week before Duncan's triumph at Barassie beat Tara Mactaggart in the final of the Scottish Women's Amateur Championship over Gullane No. 1.
Mactaggart is also in the field as are Gullane semi-finalists Hannah Darling and Clara Young and quarter-finalists Luisa Gibson and Shannon McWilliam.
Darling and McWilliam both reached the semi-finals at the Women's Amateur before bowing out to Duncan and Iceland's Jóhanna Lea Lúdvíksdóttir respectively.
English players have won four out of the last seven Helen Holm Scottish Women's Stroke Play Championship's and they will have high hopes of mounting another successful cross border raid with a line-up that includes English elite squad members Emma Allen, Thalia Kirby, Emily Toy, Caitlin Whitehead and Overseas squad members Jessica Baker, Rosie Belsham, Ellie Gower, Charlotte Heath, Caley McGinty, Mimi Rhodes and Amelia Williamson.
English 2021 Curtis Cup squad member Bel Wardle is also in the field as are Irish squad member Paula Grant, her compatriots Valerie Clancy, Maura Diamond, Kate Dwyer, Canice Screene and Rachel Thompson and Northern Ireland's Beth Coulter and Jessica Ross.
Wales is represented by Gracie Mayo, Ffion Tynan, Harriet Lockley and Darcey Harry all of whom reached the match stage of the Women's Amateur at Barassie. Mayo went on to reach the quarter-final before being beaten by McWilliam.
Due to Covid travel restrictions, competitors from outside GB & I are thinner on the ground than in previous years but there are welcome appearances from Australia's Kirsten Rudgeley and Sweden's Elsa Lundquist.
Rudgeley arrives in Scotland having recently won both the Rene Erichsen Salver at Royal Adelaide and the North Shore Classic in Auckland, New Zealand. She was also runner-up in this year's Australian Women's Amateur, Western Australian Amateur and TPS Victory Hosted by Geoff Ogilvy.
Lundquist, currently at college Cal State Fullerton in the US, reached the match play stage of the Women's British Amateur at Barassie where she lost in the first round to English girl international Lottie Woad.
15-year-old Slovenian teenager Pia Babnik won the last Helen Holm Scottish Women's Open Championship to be played back in 2019, in the process becoming the young winner since Ireland's Leona Maguire lifted the trophy aged just 14 in 2009. Babnik closed with a superb six under par 66 at Royal Troon to finish seven shots ahead of France's Charlotte Bunel and has since gone on to turn professional and win for the first time on the Ladies European Tour at the recent Jabra Ladies Open at the Evian Resort in France.
Shannon McWilliam closed with a 70 to finish as top Scot in fourth place. That result meant the Aboyne player has finished in every position in the top five at the Helen Holm except first. "Maybe next time," she said after her latest near miss
Other past winners of the championship include Amy Boulden (2012), Mel Reid (2007 and '08). Maria Hjorth (1995), Catriona Matthew (1990) and Belle Robertson (1973, '79 and '86).
All scores from the 2021 Helen Holm Scottish Women's Open Championship will be registered by players on the course using the Scottish Golf App. This means that live scores from Royal Troon will be available for everyone to follow on the Scottish Golf Website.