Details of next Zoom Panel Call Confirmed for 14 May with Scottish Golf Buying Group
Posted on 08/05/2020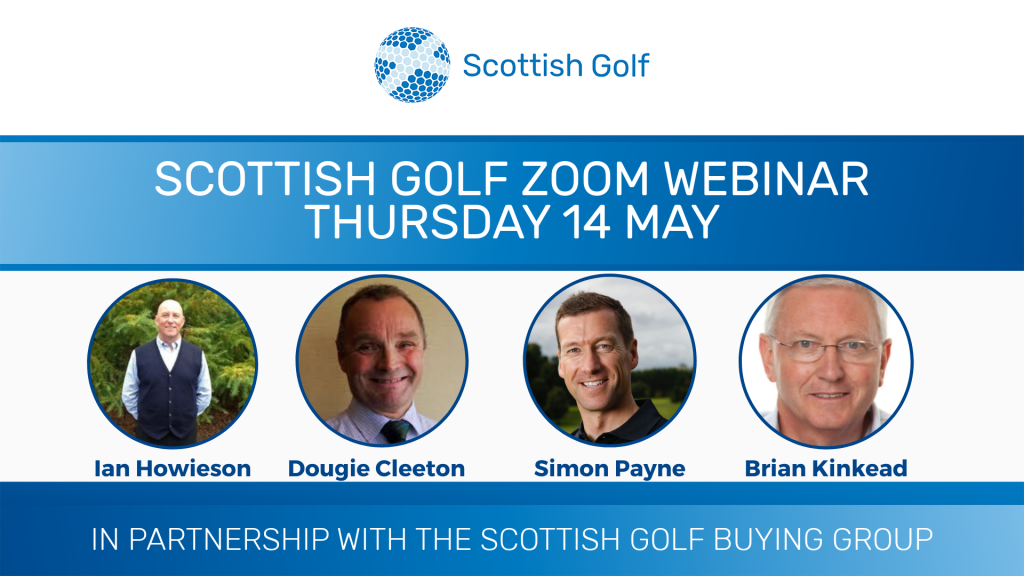 Following another successful Scottish Golf Zoom Panel Call with our partners at The Xact Group, the national governing body for golf in Scotland is pleased to confirm that our next session will take place on Thursday 14 May from 10.30am and will be run in partnership with the Scottish Golf Buying Group.
On this week's call, we will welcome four panellists from a broad range of golf clubs who will discuss their experience of dealing with the Covid-19 outbreak and their experience of using the Scottish Golf Buying Group which could support affiliated golf clubs to make substantial savings at a time where financial uncertainty is impacting businesses across the country.
Registration for this week's Zoom Panel Call is now available here and will close at 3pm on Wednesday 13 May.
Meet this week's panel:
Ian Howieson – The Scottish Golf Buying Group
Ian has been a member of the PGA for 43 years. In 2017, he founded the Scottish Golf Buying Group where Ian works with clubs to share his vast wealth of knowledge in club procurement processes with the aim of helping clubs to ensure financial sustainability through the online portal Contracts Manager.
In 2014, Ian launched the Golf Management Group in Scotland and is also a PGA Qualified Director of Golf with experience as a Head Golf Professional at the Royal Automobile Club and Fairhaven Golf Club.
Dougie Cleeton, Chief Executive Officer, Bruntsfield Links Golfing Society
Dougie has 16 years Golf Club management experience and is currently CEO at Bruntsfield Links Golfing Society. Prior to this, Dougie served as Managing Secretary at Blairgowrie Golf Club and Secretary at Turnhouse Golf Club.
Dougie has 8 years' experience with the Golf Management Groups and makes use of the wide range of services and advice on offer.
Simon Payne, Head Professional and Secretary, Cowglen Golf Club
Simon has been at Cowglen for 31 years, 20 of which as the Head Pro. He has vast experience from his multi-tasking roles as Head Professional, Club Secretary / Manager and he will offer so much guidance to Club Officials in all of these areas.
Simon is a PGA Fellow Professional. He also has an Associated Sports Qualification Level 3 Certificate in Coaching Golf and a PGA Certificate in Golf Management Theory. Simon has also been recognised by Today's Golfer as a Top 50 Coach since 2015.
Brian Kinkead, Finance Convenor and Vice President of Aboyne Golf Club
Retiring from a career within the Oil and Gas industry last year, Brian is now the Finance Convenor and Vice President of Aboyne Golf Club where he has also served as Men's Captain of the club.
The management structure at Aboyne has gone through much change in the last 3 years and the value and flexibility that Scottish Golf Buying Group services provide their council of volunteers are an important part of managing our contracts effectively.
Scottish Golf's Zoom Panel Calls are free-to-attend. To sign up for this week's session, please click here.