Ayrshire End 14 Year Wait for Boys' Area Team Title
Posted on 13/09/2021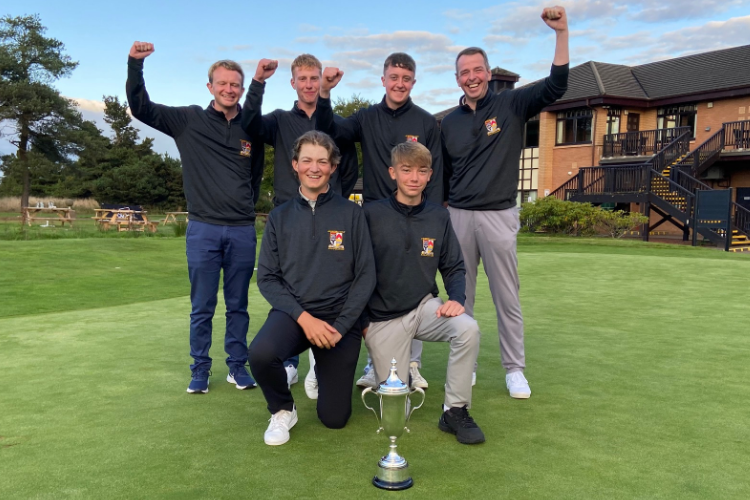 Ayrshire claimed the Scottish Boys' Area Team title for the first time since 2007 when they beat the Lothians by six shots at this year's championship staged over the Carrickstone course at Dullatur.
The Ayrshire team opening the event by sharing the lead with the North after the morning foursomes with Connor Wills and Harvey Broadfoot carding a five over par 75 and teammates Jack Allan and Max Barclay scoring a 77.
At that stage they were seven shots ahead of the Lothians and they all-but maintained that advantage in the subsequent singles when Broadfoot carded a level par 70, Barclay posted a 71 and Allan returned a 78 to see their team finish on 371.
Josh Beveridge was the Lothians top performer in the singles as they attempted to complete a double after their men's team won the previous week's Scottish Men's Area Team Championship at the Kings Golf Club Inverness.
He matched Broadfoot's 70 while Samuel Mukherjee contributed a 73 and his brother, Cameron, the reigning Scottish Boys' Under-14 champion, posted a 75 to see their team leapfrog into second place in the team standings ahead of the North East and Lanarkshire.
The North slipped back into fifth place with their best singles score coming from Finlay Wickenden who carded a 74.
"We're chuffed to bits," said Ayrshire team captain, Scott Gilchrist.
"I have been involved in a few of these competitions and I know it's very easy to play your way out of it in the foursomes so our advice to the boys this morning was fight for every shot.
"We were a bit surprised to be tied for the lead at lunch but in the afternoon we really played well. It was a real team performance and now they've got some golfing memories for life. There were some very happy faces heading home last night.
"I would like to thank Scottish Golf and Dullatur Golf Club," he added. "It was a very well run tournament."
The individual competition for the Niagara Cup was won by Perth & Kinross team member Luke Volland whose 69 was the only sub-par round of the day.
Volland carded four birdies and three bogeys to claim a one-shot victory over Broadfoot and Beveridge. Barclay was joined on one over par 71 by Ethan Main (North East), Brodie Cunningham (Lanarkshire) and Charlie Gillespie (Fife) while Samuel Mukherjee shared eighth place with Charlie Greaves (Glasgow) on 73.