An Update on the PVG Scheme for Affiliated Clubs
Posted on 14/07/2020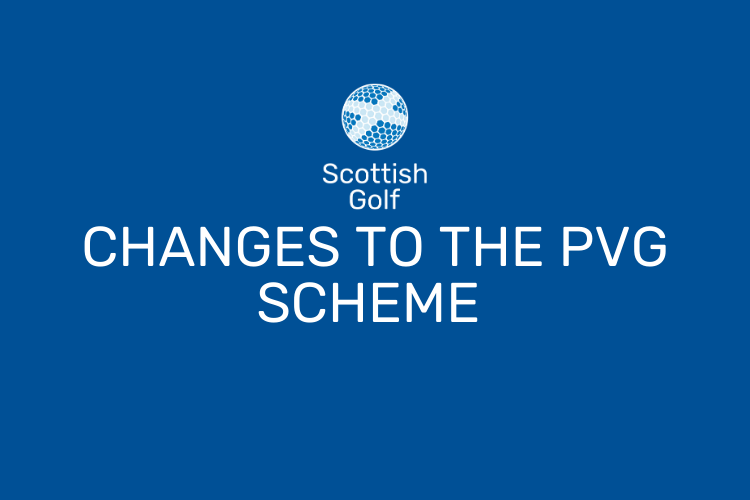 *Last updated 15th October 2020.
The previous hold placed on the processing of non-essential PVGs has been lifted and member clubs can start submitting PVG applications for processing once again.
The below information provides details of the amended process for submitting PVG applications.
Processing PVG applications
PVG applications will now be completed on a digital application form and submitted to Scottish Golf via e-mail. On the Safeguarding page of the Scottish Golf website you will be able to download the following two forms:
Guidance on How to Complete Digital PVG Forms
For guidance on joining the PVG scheme, please click here.
For guidance on existing member applications, please click here.
In order to protect personal data please ensure digital PVG applications are deleted after they have been sent to Scottish Golf for processing.
Paper applications submitted prior to lockdown
Any applications which were submitted to Scottish Golf prior to lockdown, that have no errors will be sent to VSDS for processing. We have been informed that these will be processed and to expect a delay to the normal turnaround time.
If you have a paper application which has not yet been submitted to Scottish Golf and were holding on to them due to the PVG processing hold, these can now be sent to us for processing if they are 100% complete and dated within the last 6 month. You do not need to convert them onto a digital application. Please send this paper applications as normal, with coversheet to the St Andrews office address for processing. Please note that VSDS have indicated there will be a delay on paper applications being processed.
Guidance on ID checking
ID checks are still required to check PVG applications for errors prior to submission and to verify that the applicant is the person whose documentation you are seeing.
The following advice is provided for Safeguarding Officers/verifiers on how to carry out socially distant ID checks to fulfil the requirements of the PVG application. https://www.harpermacleod.co.uk/media/707512/safeguarding-and-diclosure-checks-march-2020-070420-clubs.pdf
Socially distant ID checks can be carried out in the following ways:
A scan/photograph the documentation and send them to you as attachments via email or text message
Copies of the documentation are sent through the post
Using video via phone, webcam or similar to check the identification documentation. The applicant can show it to you via the camera and you can note relevant information as required
Documentation is dropped off to you via your letterbox and then returned to the applicant once it's been checked
As a last resort face to face identification can be undertaken but please remember to follow the guidelines on social distancing, handwashing and wearing of face coverings
Electronic signatures will be accepted there is no need to print and sign the form by hand
Support and Advice on PVG applications
To help clubs keep a track of any PVG applications sent to Scottish Golf Volunteer Scotland have created a useful tracking sheet which can be downloaded from the following link on their website.
If you have any questions or require further support in relation to this new PVG process please don't hesitate to contact our Safeguarding Team at [email protected]