Watch our Scottish Golf App Zoom Call
Posted on 06/11/2020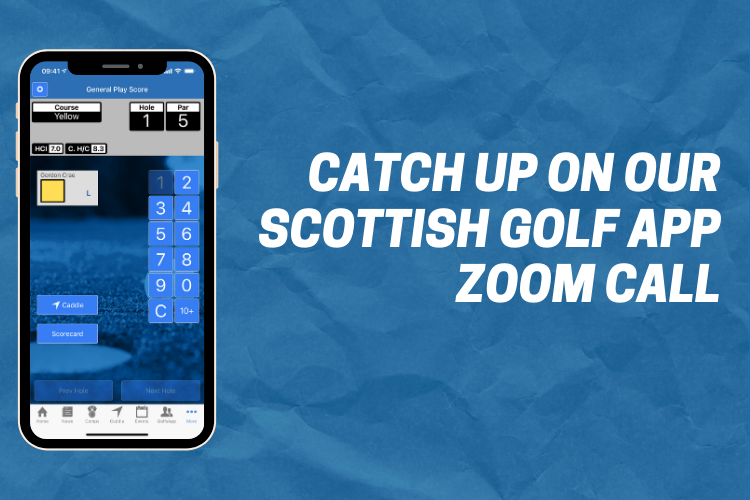 With the new World Handicap System launching in Scotland on Monday, and more than 77,000 golfers now using the Scottish Golf App, over 400 golfers from across the country engaged with Scottish Golf's latest Zoom Panel Call which focussed on showcasing some of the key features of the App, as well as answering some frequently asked questions.
Hosted by Scottish Golf's Club Business Manager, Iain Evans, golfers from across Scotland had the opportunity to hear from, and pose questions to, David Kernohan, Handicapping and Course Rating Officer at Scottish Golf, Gordon Crae from Gourock Golf Club and Joe Persh, Head of Development and Technology at OCS.
The call was recorded to enable anyone who missed the session to catch up. Watch the YouTube video.
David Kernohan, Handicapping and Course Rating Officer at Scottish Golf, said, "We would like to thank everyone for their time in tuning in to today's session. As mentioned on the call, we are really pleased with how the implementation of WHS has gone so far in Scotland with over 77,000 registered users on the App.
"As with all change, it will take some time to adjust, but we are here to help as much as possible. The most important thing for golfers to remember is that by trusting the system and submitting scores, you will very quickly see how your handicap index adjusts to your demonstrated playing ability.
"Following the significant demand for this week's call, we will be looking to host further Zoom Panel Calls in the coming weeks to give more golfers the opportunity to tune-in live and find out more."
Following the Call, we have updated our Frequently Asked Questions page here.
Should anyone wish to find out more about the Scottish Golf App, you can do so on our dedicated webpage here.
If you would like to read about how initial Handicap Index calculation was done, information can be found here.
You can also read more about what the World Handicap System is here.
Finally, should you have any issues with the Scottish Golf App, you can contact us using the following form here and a member of our team will look into this for you.