2022 National Events are open – enter now!
Posted on 31/01/2022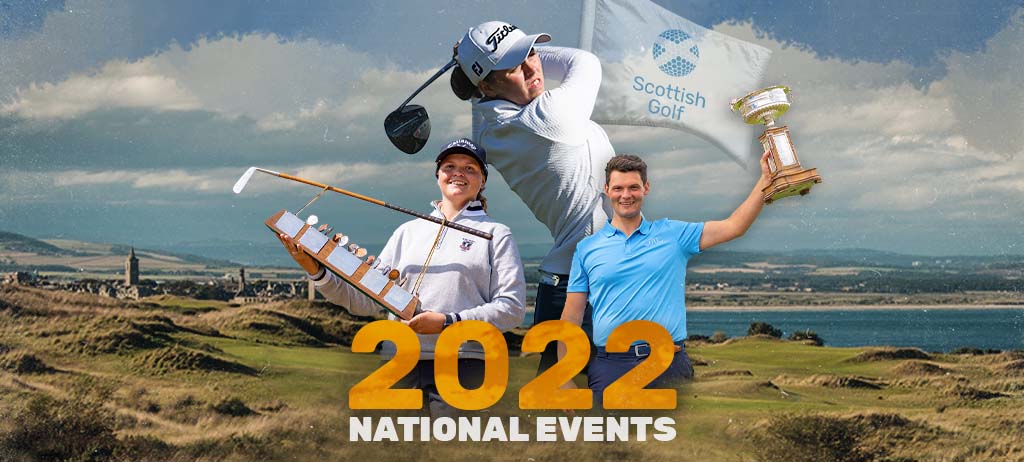 Scottish Golf announce the launch of 2022 Events alongside NEW National Open Series and Scottish Men's Open Qualifier
Scottish Golf are proud to announce an even greater variety of events and broadened opportunities for all golfer types to participate in 2022.
In addition to our existing schedule of annual events, this year we have two exciting new developments:
Scottish Men's Open Pre-Qualifying
With Scottish Men's Open Championship entries continuing to grow year on year we are pleased to offer players increased means to qualify for this year's event.
There will now be a pre-qualifying round at Fraserburgh on Tuesday 24 May for non-exempt players. For the first time this pilot will decide a minimum of 30 qualifying places into the Scottish Men's Open at Cruden Bay by means of an 18-hole stroke play pre-qualifying round.
We would encourage all eligible players to embrace this exciting opportunity which creates a more transparent and accessible route for golfers to qualify for the Scottish Men's Open. Further details about the event are available on the Scottish Golf App.
NEW National Open Series will be launching in early 2022 
An exciting new open series of multi-tee events for all golfers is set to launch early in 2022. 
The new event will see qualifying events take place throughout the summer months at some stellar courses. Competitors will get the opportunity to experience exactly what it feels like to play in a National Championship, enjoy some great hospitality and be in with a chance of winning some great prizes and qualifying for the Grand Final. Watch this space during February for more information about this new event and how you can get involved!
The easiest and best way to enter our competitions is through the Scottish Golf App, where players will be able to access event information, live updates, enter scores and book practice rounds amongst many other features. Our events wouldn't be the success they are without the co-operation and generosity of our host clubs and their members. We would like to extend a warm thanks to all clubs that are hosting Scottish Golf events in 2022.
---
Scottish Medals Finals
All affiliated clubs can be represented in the Scottish Medals Finals. The Top 3 male and Top 3 female players returning the lowest aggregate of three net scores from 2021 club medal competitions are eligible to compete.
Once identified, qualifiers can enter the regional final of their choice where the Top 6 Male and Top 6 female players from each will qualify for the Grand Final at Royal Burgess in August 2022.
Regional Finals include:
EAST Ratho Park

WEST Lanark

SOUTH Hawick

NORTH Boat of Garten

CENTRAL 1 West Lothian

CENTRAL 2 Tulliallan

GRAND FINAL Royal Burgess Golfing Society
Download the Scottish Golf App and enter today.
Club guidelines
T&Cs
2022 Scottish Golf 9-Hole Challenge
The Scottish Golf R&A 9-Hole Challenge makes a welcome return this year, with Dundas Parks playing host to the National Final on Thursday 9 and Friday 10 June 2022.
The top two pairs from each day will qualify for an all-expenses paid experience of a lifetime, playing in the R&A 9 Hole Challenge Grand Final over the Old Course, St Andrews in July, just days before the 150th Open Championship commences. They will compete against teams from across the world for a chance to win the overall title.
Ensure your club is represented and your members are in with a chance of winning the fantastic prize, by scheduling in a 9-Hole qualifier. This can be a stand-alone or existing fixture taking place between 1 January and 23 May 2022, and the first 200 pairs will progress to the National Final.
Entry is absolutely free for all affiliated clubs. Further details are available here.
Entry Instructions are as follows:
Once established, the qualifying pair can enter their chosen day via the Scottish Golf App or website.
Both individuals must enter individually and add their playing partner's name in the entry 'notes' section.
Scottish Mixed Championship
The Scottish Mixed Championship is now in its fifth year, is free to enter and remains hugely popular.
We invite all affiliated clubs to schedule mixed foursomes qualifying events between 1 January and 29 August 2022. The winning pair will go forward to the National Leaderboard. The Top 40 pairs will qualify for a great day out and some fantastic prizes at the Grand Final which will once again be played over the former Men's and Women's Scottish Open venue, Gullane No. 1, on Friday 16 September 2022.
Once established, entry can be made by one of the qualifying pair via the Scottish Golf App. Further details are available here.
Entry Instructions are as follows:
Once established, entry can be made by one of the qualifying pair via the Scottish Golf App.
The player entering must have their partner's CDH number and add their stableford points total to the entry 'notes' section for the National Leaderboard.
---
Download the Scottish Golf App and sign up to events, book practice rounds, enter scores. Your one-stop golf shop.